This past weekend, I headed down to North Myrtle Beach for a quick weekend getaway. Some friends have a house down there so when they extended the offer for a visit, I jumped. It was a bit chilly but still beautiful.
We started out the weekend Saturday morning with a solid session at the gym – my friends work out HARD. They were so inspiring! It was awesome that they all wanted to hit up the gym while vacationing too. After our workout, we had an early lunch, then we took a long walk on the beach.
In the afternoon, we went to a local vineyard La Belle Amie do to a tasting and stumbled upon a wine festival!
Live music and dancing galore. Still a bit chilly but still fun!
It was a pretty place. I loved their porch! So did that mister apparently.
Their wines all had funny names. hehe
We sat outside and enjoyed wine, music, great conversation, and lots of laughter.
SUCH a Southern saying:  Bless her heart!
I left with a big smile, slightly blue lips from the cold and slightly purple teeth from the wine.
Later that evening we went to a local joint, Steven's Oyster & Sea Food Restaurant, for fresh oysters. I love traveling with people who know all the hidden gems.
Seriously the BEST oysters I've ever ever had. They were huge!
Now you see them, now you don't!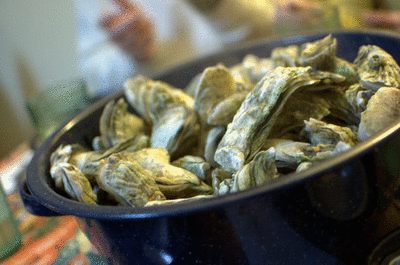 Lots of collateral damage.
After a day of beaching, oysters, a little shopping, and a lot of wine, we all crashed into bed. We ran a race on Sunday and needed to rest up – but more on that later!
Do you like oysters? I had them for the first time a few years ago and was kind of meh. But I really think they are something that grows on you. Now I LOOOOOVE them. Especially when they are crazy fresh like that.
What's the BEST beach you have ever been to?