Beautycounter just launched their new All Bright Triple Acid AHA Toner and I am SO obsessed with it. Before Beautycounter's Countertime Mineral Boost Hydrating Essence (similar to a toner and the same set in a skincare routine) launched, I was somewhat uninterested in a toner. I had horrible memories of the toners I used when I was around 12 years old that BURNED my skin. After using those, I never thought toners were a good idea. Then, Beautycounter came out with their Countertime Essence, I gave it a try, and it's now one of my favorite products in my morning skincare routine. Safe to say I'm a toner (or essence) girl now.
When I heard that Beautycounter was creating a toner to go with their cult favorite Vitamin C serum, I was thrilled. I've been using All Bright C Serum for a few years now, and it was one of the products that made a truly dramatic impact on my skin. It brightened dark spots I thought I'd have forever, reduced the acne scars I had dealt with for years, and my complexion looked SO much brighter. (I use this Overnight Resurfacing Peel at night and the Vitamin C serum in the morning.)
I got to try the new All Bright Triple Acid AHA Toner early (consultant perks!) and I was blown away by how quickly I saw results. My skin looked like I had just walked out of a facial. It was tighter, brighter, and smoother after using it just ONE time. I'm so excited to share the details with you now that it's available to the public!
Okay you get it, I love this stuff. Let's get into why.
Beautycounter All Bright C Toner Review
The All Bright Triple Acid AHA Toner is a toner that minimizes the appearance of pores, resurfaces dull skin, and leaves skin brighter (and prepped for the rest of your skin care) after just one use. You'll notice results after the first time you use it (I sure did), and as you continue to use it a few times per week, you'll see even more results. To apply it, I use a disposable cotton round and gently sweep across my skin.
What does it do?
1. Minimizes the appearance of pores
The first thing this toner does is help minimize the appearance of pores on your face. After using it one time, my skin looked extremely smooth, and the pesky pores I usually see around my nose were miniscule. I assumed it would make my skin look smooth, but not THAT smooth. The toner contains Kombucha (the form of fermented black tea) which helps smooth skin and improve skin radiance.
2. Resurfaces dull skin
Because of the chemical exfoliator in this toner (AHA, which is a blend of glycolic and lactic acids + phytic acid), your cell turnover increases, which means your skin produces more collagen. The AHA in this toner is the same ingredient found in the AHA Reflect Effect Mask and the Overnight Resurfacing Peel, both of which are known for reducing fine lines and wrinkles and also reducing discoloration. This is the part that may make skin tingle, especially if you're new to AHA products or have very sensitive skin. (It does NOT tingle as much as these peel pads though!)
3. Leaves skin brighter
The third thing this toner does, along with its All Bright Collection counterparts (Vitamin C serum and Oil), is leave the skin looking brighter and more radiant. If you've ever tried the All Bright C Serum from Beautycounter, you know how effective it is at brightening the appearance of skin (see my results here). The ingredients responsible for this skin brightener are a blend of niacinamide and salicylic acid (beta hydroxy acid), which help improve the appearance of dark spots and brighten skin.
Alright, let's get into a few more details if you, like me, like to know how and why things work! ? If you don't care about all these details, you can skim or skip the below, and just use this link to add it to your cart. (But first, be sure to sign up for my newsletter to save 20% when you check out if it's your first order 😉 )
Ingredients
Here's a break down of the active ingredients:
Niacinamide + Salicylic Acid (Beta Hydroxy Acid) Blend
This blend improves the appearance of dark spots and brightens skin.
The AHA blend of glycolic and lactic acids exfoliates dead skin to stimulate cell turnover.
Exfoliates to aid in cell turnover for a natural glow.
Kombucha in the form of fermented black tea, helps smooth skin and improve skin radiance.
Get the All Bright Triple Acid AHA Toner here.
How To Use The Beautycounter All Bright C Toner
Apply a small amount to a cotton ball or round. Wipe the damp cotton over your face gently, and allow the toner to absorb before applying your serum and moisturizer.
When should I use it?
Use it after cleansing. I like using it in the morning since I pair it with the All Bright C Serum, but you can also use it at night. Be sure to ALWAYS use SPF during the day when using AHA products.
How often should I use it?
AHA products can be used 2-3 times a week, although some people can work up to using them daily. I did notice very minor peeling the first few times I used this toner so I wouldn't start with it daily. Since it contains AHA, you do not want to use this one the same day you use the Overnight Peel or Reflect Effect Mask.
So, if you use the Peel and Mask once a week, then you could use this toner once a week. Keep in mind all the AHA products you use when you think about 2-3 AHA uses and not just 2-3 uses of the toner. Make sense?
How long does it last?
The toner is the same size as the Countertime Essence. The Countertime Essence lasts about 3 months (which I use AM and PM), and since I'll only use the All Bright Triple Acid AHA Toner 2 times a week, I expect it to last 6-9 months.
Can I use it with the Overnight Resurfacing Peel or AHA Reflect Effect Mask?
Yes, but not on the same days, since they all contain AHA. That's why I typically use the toner two times a week. I like to use the Overnight Peel once a week, these Peel Pads once a week, and the AHA Reflect Effect Mask twice a month. I use the toner in the morning on a day where I will not be using other AHA products.
Beautycounter All Bright C Toner Review
I was blown away by how quickly I could see results after just ONE time using the toner. And as I've continued to use it, my skin has become smoother and more radiant as well. Here are a few more perks of this toner.
It's potent
I love a product with high quantities of active ingredients. This toner has a high potency of AHA, meaning it's truly effective at smoothing and brightening. In fact, given the high potency, it should only be used a few times a week. I use it 2-3 times, in place of my Countertime Mineral Boost Hydrating Essence. And when I do use it, I only use it once that day.
It's clean and safe
Like ALL Beautycounter products, every ingredient in the All Bright Triple Acid AHA Toner was screened against 23 health and environmental endpoints to make sure it passes Beautycounter's extensive clean beauty requirements. You can read more about the ingredients Beautycounter never allows in their products here.
It's recyclable
The toner is packaged in a recyclable glass bottle, and it has a 100% PCR (post consumer resin) cap.
And because I know I'll get some questions, here are a few FAQ's!
What's the best Beautycounter AHA product to buy?
They now have the AHA mask, the Overnight Resurfacing Peel and this toner… so which should you get and use? I personally have all three but I'm also a skincare junkie. What you buy and use really depends on your skin goals and your personal care preferences. For example:
I don't love masks so I'm much more likely to use the AHA toner or peel. But, the mask has both physical and chemical exfoliation while those only have chemical exfoliation.
The mask didn't cause any peeling for me but this caused minor peeling.
The Overnight Resurfacing Peel will improve skin texture and wrinkles, while the toner is more effective at brightening.
So, you can see how your goals will impact what you use and you can see why you might want all three if your budget allows.
How is it different from the C serum and Brightening Oil?
The All Bright Triple Acid AHA Toner is part of the All Bright line, which includes the All Bright C Serum and the All Bright Brightening Facial Oil. They're all made to brighten your skin, but each has a slightly different purpose and includes different ingredients.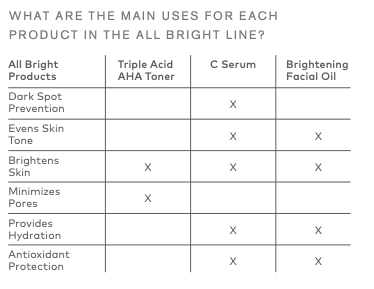 The All Bright C Serum is made with two types of Vitamin C: Tetrahexyldecyl Ascorbate and Bis-Glyceryl Ascorbate. These two stable forms of vitamin C make it really effective. It also contains Curcuma Longa (Turmeric) Root and Myrciaria Dubia (Camu Camu) Fruit Extract. You can see from the chart above that the Vitamin C serum prevents dark spots, evens your skin tone, brightens, hydrates, and protects against free radicals and environmental stressors, while the toner only brightens and tightens. You'll want to use both for the best results. I found I got faster results from the toner vs. the All Bright C serum for tightening pores.
The Brightening Facial Oil is a great option for sensitive skin since it contains a slightly less potent amount of vitamin C while also hydrating and protecting from environmental stressors.
Bottom line
This toner is 100% worth the purchase. I've loved the results so much that I look forward to using it, and I've loved seeing improvements in my skin after immediate use and over the last few months as well. Click here to add the toner to your cart.
If you're new to Beautycounter, you can get the toner for 20% off with code CLEANFORALL20 when you select TeriLyn Adams as your consultant when you check out. If you need help with the rest of your skincare routine, fill this form out and I'll email you some other recommendations!