One of my go-to brands for jean shorts is Madewell. They have lots of styles, great prices and regular sales, every size under the rainbow (they are extremely size inclusive and have tons of great curvy jean short options), multiple rises for each pair, and a variety of washes. In fact, if you have the option to drop by in person at one of their stores, you can visit the Madewell Denim Bar, which is an extensive selection to try on.
With so many options, however, it can be a challenge to figure out how to narrow down which ones are best for your body type and preferences, especially if you are shopping online. So in today's post, I'm sharing a roundup of the best jean shorts from Madewell along with my thoughts about each. Hopefully this helps you narrow down your favorites or find a new pair to love! They have a cult following for good reason and I'll get into all of the details in this post.
5 Best Madewell Jean Shorts
The one issue I have with Madewell Jean shorts is the sizing discrepancy. From pair to pair, I was anywhere from a 23 to a 25, which was super frustrating. I'll share details with each pair below. Hopefully this post will help you decide which size to order since it was such a range for me.
Relaxed Denim Shorts in Essen Wash
First, let's talk about the Relaxed Denim Shorts from Madewell. I truly love this pair of shorts. They fit loosely around my thighs, which I love, and they're a great length for women in their 30s. These have the least amount of stretch that Madewell makes (they are made with 100% cotton), which is my preference. I prefer my denim to feel stiff and naturally loosen throughout the day versus feeling stretchy as I put them on.  The Essen wash is light and casual, which is perfect for everyday wear. I love having a light wash pair of shorts, and I tend to pick this wash over others in my closet.
The only qualm I have with these is that they run big. I ordered a 25, but they had LOTS of room in the hips (see the photo below). If you wear them riding a little lower than I did they may fit better, however I don't like wearing an inseam too low (feels like I'm sagging!), so I returned these and sized down two sizes so that they'd fit my hips better. If you're like me, order 1 or even 2 sizes down. Keep in mind that they are made to be worn lower on your hips, so sizing down  is more of a preference than a requirement for me.
Here are the details on this pair:
Order them from Madewell.com here!
Relaxed Denim Shorts in Tile White
This next pair is the same as Relaxed Shorts from above but in a white tile wash. I'm a HUGE fan of this wash, and I wear it more often than I expected to. Similar to the pair above, these ran large. In fact, they were larger than the Essen wash by at least one size. Just like above, I size down in this pair by two sizes.
I love the raw hem on this pair, and they've gotten even better with more washes. They're Madewell's least stretchy jean, which means they feel stiff and ridged like denim traditionally does, and they stretch out throughout the day. This is my preference. I ordered this pair last year as well, but last year it had a button fly. I'm super excited that the 2022 pair is a zipper fly.
Here are the details on this pair:
Order them from Madewell.com here!
The Momjean Short in Flintwood Wash
The Momjean short is my FAVORITE pair from Madewell. They're different than the Relaxed Denim Shorts because of their length. The name hints at it, but the length is truly perfect for us moms. It's longer than regular jean shorts, but not by too much. They aren't like bermuda shorts, but they're a perfect hybrid of long enough to be conservative. And short enough to still look really cute. They are very similar to these Agolde shorts that I also have and love. But the Madewell ones are much more affordable.
They have a superhigh-rise fit at the inseam, they're fitted through the waist. And then they have an easy A-line shape which means they don't hug your thighs. They fit great right out of the box. The Flintwood wash is distressed just slightly (nothing too revealing) making them casual and easy to wear all day. These are not dressy, so keep that in mind. They're also 100% cotton, so they have no stretchy material. They do loosen throughout the day, which is my favorite style of denim.
And the best part? These are true to size ;).
Here are the details:
Order them here!

The Perfect Jean Short in Burnett Wash
The Perfect Jean Shorts are my least favorite of the 4 pair that I ordered. They're super cute on the model, but not the style I was going for when I tried them on. These are much stretchier than my other 3 pair, and that feeling, while comfortable, isn't what I look for in jean shorts. These are also shorter than the Momjean shorts and the Relaxed Denim Shorts, but have the same super high rise waist as the Momjean shorts.
If you're looking for a shorter, more comfy pair of jean shorts then you'll likely love these. They're great for many reasons, but like I said, I prefer a structured denim that loosens throughout the day instead of feeling stretchy when I put them on. They were also too short for my comfort.
Here are the details on this pair:
Shop this pair here!
Relaxed Mid-Length Denim Shorts in Steenwick Wash: Ripped Edition
The last pair I'm including in this post is a pair I haven't tried. I noticed the Relaxed Mid-Length Denim Shorts on the website (and I obviously don't need any more jean shorts), but I thought they'd be a great pair for a mom who's recently postpartum. They have a relaxed fit that we love and a longer length. When I had just had Thomas, I wanted more coverage and these would've been perfect. I like the distressing too!
They are the same style as the Relaxed Denim Shorts I included in the post above, but these are a longer length. And if I was recently postpartum, I'd order my true size (since they run big) and wear them a little slouchier like they're designed. If you end up ordering these, let me know what you think!
Details: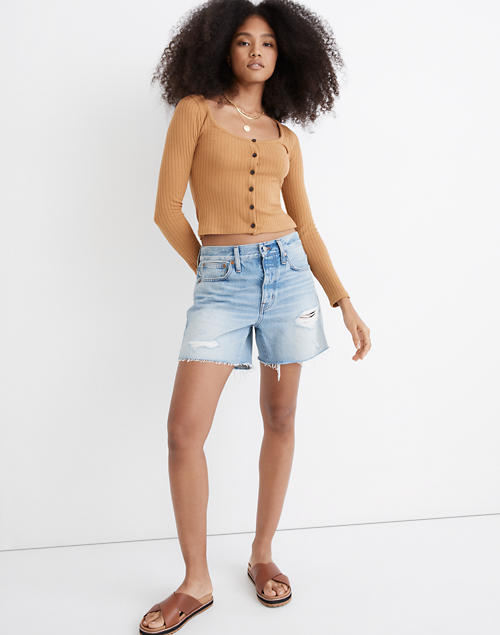 Bottom Line
Madewell jean shorts are a GREAT bang for your buck. I have a great pair of denim shorts from AGOLDE and they are triple the price. I love both brands, but I'm always amazed at how good the Madewell jean shorts look for a more affordable price. Madewell has sales ALL the time, too. Make sure to keep an eye out on their website since you'll likely see the shorts discounted from time to time!
Shop the Post