Lake Pajamas Review: Truly The Softest Pajamas!
If you've never invested in nice PJs, I'm going to convince you that it's time. And if you're already a fan of luxurious pajamas, then you must try LAKE.
I was introduced to LAKE Pajamas when I was newly postpartum with my son, Thomas. For years, I never purchased actual pajamas, but instead just slept in workout clothes or ratty old t-shirts. Then, I finally bought true pajamas and liked them, but wasn't in love with anything. Then, I finally tried LAKE Pajamas and I'm now a pajamas snob. I had no idea what I was missing until I finally caved in and purchased a pair for myself. (And yes, they are are a splurge, especially if you haven't bought real pajamas before.)
I kept hearing people talk about LAKE Pajamas on Instagram, and when I finally decided to give them a try, I wanted to kick myself for not giving in earlier and wasting money on other brands. They are worth the hype.
If you're anything like I was, and not sure what the hype is all about, or maybe you've decided you want to get a set, but you're not sure which ones, then I've got you covered in this post. I'm going to share my honest review, the sets that are worth buying, how to take care of them, and what size to order.
If you're still looking for a Christmas gift, then I've got you.
Lake Pajamas Review: The Softest Pajamas You'll Ever Sleep In
What Are LAKE Pajamas?
Before I tell you which pairs you need (all of them, ahem), let me give you a little background. The company was started by two friends: Cassandra Cannon and Anne Read Lattimore, while they were looking for PJs that met their dream requirements. They wanted a set that was stylish AND comfortable. They weren't looking for sexy sleepwear, and they wanted something better than their old T-shirts. So they founded LAKE to create classic pajamas that were softer than anything on the market.
Since their start, they've garnered coverage on large media platforms like Forbes, Town & Country, Vouge, and the WSJ.
LAKE is known well for their signature 100% Peruvian Pima Cotton fabric that feels unlike anything in your closet.
Where is Lake pajamas based?
LAKE is based in Savannah, Georgia and is primarily e-commerce. However, there are two brick and mortar stores in Atlanta and Charleston. I got to stop into the Charleston location on a weekend trip this winter and it's even better than I'd imagined. I could have bought everything and it's just such a beautiful space.
Lake Pajamas Sizing
One of the most common questions I get when I share LAKE Pajamas on social media is about sizing. Since you don't typically wear PJs out of the house (but hey, I'm not judging if you do — okay, actually I am), sizing is more forgiving than with other clothes. However, LAKE isn't cheap, so you'll want to be sure to get the size that fits you best to get the most out of your pajamas.
In general, LAKE runs true to size. When they arrive, they'll seem a tad large (and maybe a little long), and that's because LAKE is accounting for a little shrinkage in the wash. Super soft material like that of pima cotton typically shrinks in the first wash, so LAKE accounts for it in their sizing. Don't worry if your PJs seem a little big at first.
I get an XS in every pair that I buy. The pima cotton sets have shrunk, especially in length for the pants, but tops fit perfectly, or perhaps even a little large. The pants are designed to be slightly cropped, so if you want them to be full length, hang dry them. The other sets I've ordered from LAKE — namely the DreamKnit — haven't shrunk quite as much.
Do LAKE pajamas run small?
Nope! If anything, they run a little big to account for shrinkage. Size up only if you like your PJs to be roomy, and if you plan to dry them in the dryer (not recommended since it makes them shrink even MORE, but sometimes I do anyway).
Care Instructions
The best way to care for your pajamas is to wash them with similar colors on a delicate cycle. They recommend laying your PJs flat to dry (but let's be real, who has time for that). You'll definitely extended the wear of the set if you do as they say, though.
Where To Buy LAKE Pajamas
You can order LAKE online (free shipping right now!), or you can stop into one of their stores in Atlanta or Charleston.
The Best LAKE Pajamas Products
Okay, now let's talk about the pajamas themselves.
Pima Bundle in Parisian Green
The Pima Bundle was my very first set of LAKE Pajamas. The bundle comes with a shorts set and a pair of pants, so you can have the best of both worlds. I have this set in an XS and the pants and shorts have shrunk to fit me perfectly. These are truly some of the softest cotton pajamas I've ever felt. They have an almost silky-like cotton feel. You know when something feels so soft that it almost feels cool to the touch? Yep, that's the feeling you get when you put these on.
This bundle comes in 5 colorways, and I have the Parisian Green stripes.

Pima Tank-Short Set in Saltwater
The next set in my lineup is the Pima Tank-Short set. This comes with shorts and a scoop neck tank top. Since I typically get warm when I sleep in the summer, the tank is perfect. I love the light blue and green combo, and the underarms aren't huge like some tanks, which I appreciate.
Thomas' exact PJs are sold out, but they are also LAKE. They have the most beautiful kids, toddler and baby pajamas, and I've been shocked by how long he's been able to wear them (at least 6 months) since kids grow so fast!

DreamKnit Kimono Pajama Set in Fog
I got this DreamKnit Kimono Set a month or so ago and it's definitely my cutest set. The top wraps up and has an interior tie to keep it secure so you can either wear it on it's own or wear it with a tank. I got this set in an XS and it has not shrunk like the Pima Cotton sets. DreamKnit is a super soft material that has a more drapey feeling than the Pima Cotton. The pants have and wide leg and elastic waistband (just like all LAKE Pajamas).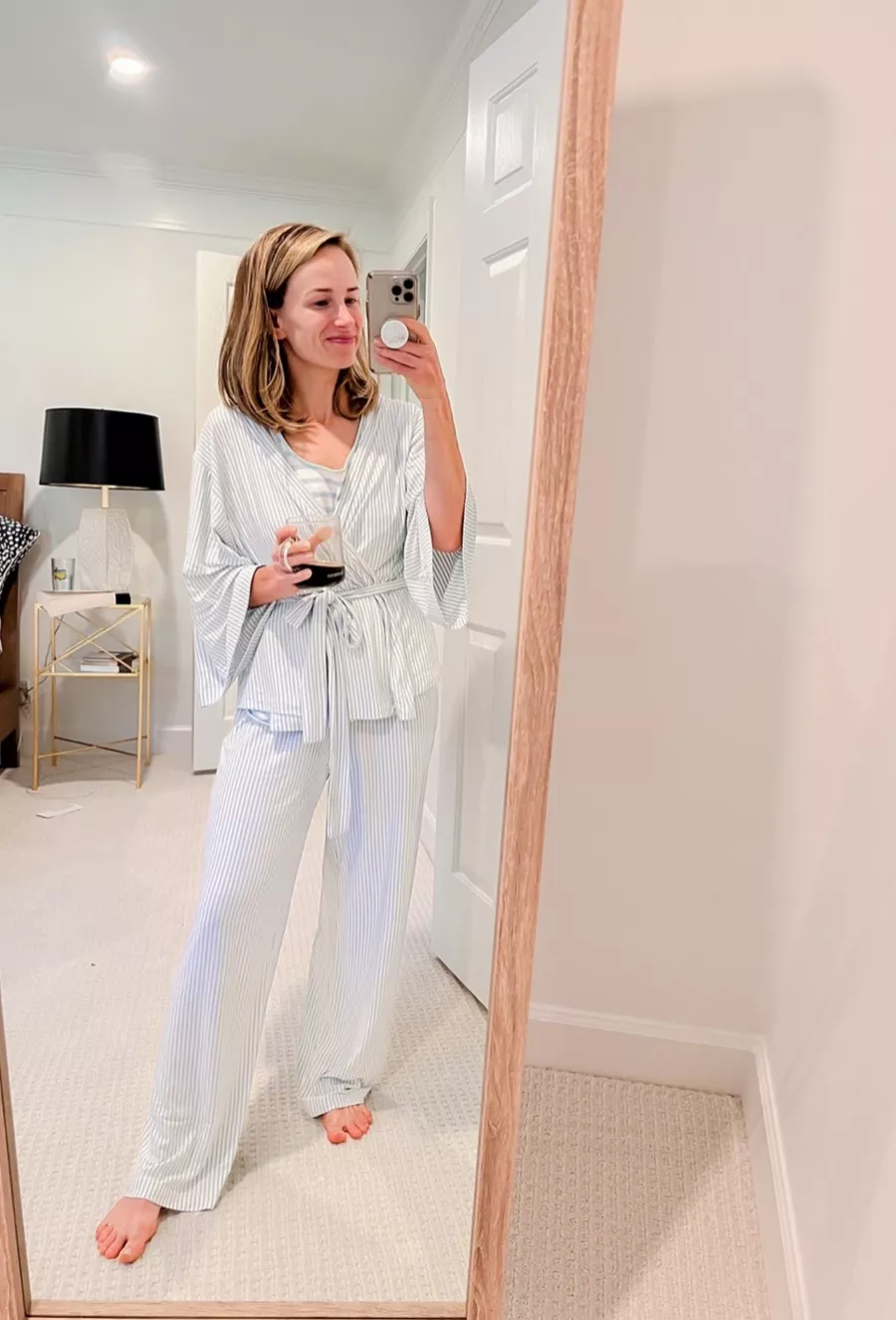 DreamKnit Vintage Tank-Short Set in Pacific
Now that I know how much I love the DreamKnit fabric (I think I like it better than the Pima Cotton!), I'm definitely planning to order more when it's time to replace my older PJs. This Tank-Short set is super cute, practical (since I get warm at night), and made in my favorite fabric.

DreamKnit Button Down Set in Cadet
If being too hot at night isn't an issue for you, this button down set is SO cute. I'd get it if I knew I wouldn't sweat through it at night.

Relax Shorts Set in Steel Blue
I love the darker blue color of this set. It's part of their "lounge" collection. I sleep in this and also wear the top with leggings when I'm wanting to dress down but still feel "ready". I have this set in an XS.

Cozy Robe in French Blue
The LAKE Cozy Robe is named rather perfectly. I got this around Mother's Day this past year and it was one of my favorite gifts ever. But I don't wear it while I'm getting ready since it feels a little too nice to ruin everyday with makeup (I have a terry robe — this and this one — for when I'm getting ready), but still wear my LAKE robe daily. I put it on in first thing in the chilly mornings while I drink my coffee, and I wear it every night as I'm watching a show or reading. It's a perfect gift to give for birthdays, Mother's Day or Christmas. (I included it in my gift guide for 2022.)
I love the traditional turndown collar, a sewn-in belt (THANK YOU!) and the large pockets in the side of the robe.

Pocket Shorts Set
On my wishlist is this Pocket Shorts Set made in LAKE's poplin material. This set is not stretchy or drapey like the Dreamknit or the Pima Cotton, so it's a little stiffer. I'd like to try it and see how it compares! If you prefer a more structured fit for your sleepwear, this will be a great option for you.
I secretly want to get this set since I know I'll wear the long-sleeve button-up top as a shirt with jean shorts in the summer! It's supposed to be super lightweight and airy.

Collaboration Sets
I love that Lake has limited edition sets every so often where they collaborate with other designers and creatives for super unique patterns and prints. While the sets that we have from past collaborations are now sold out, I'll share a few photos to give you a sense for the fun patterns they have every so often!

The set above is from a collaboration they did with Schumacher!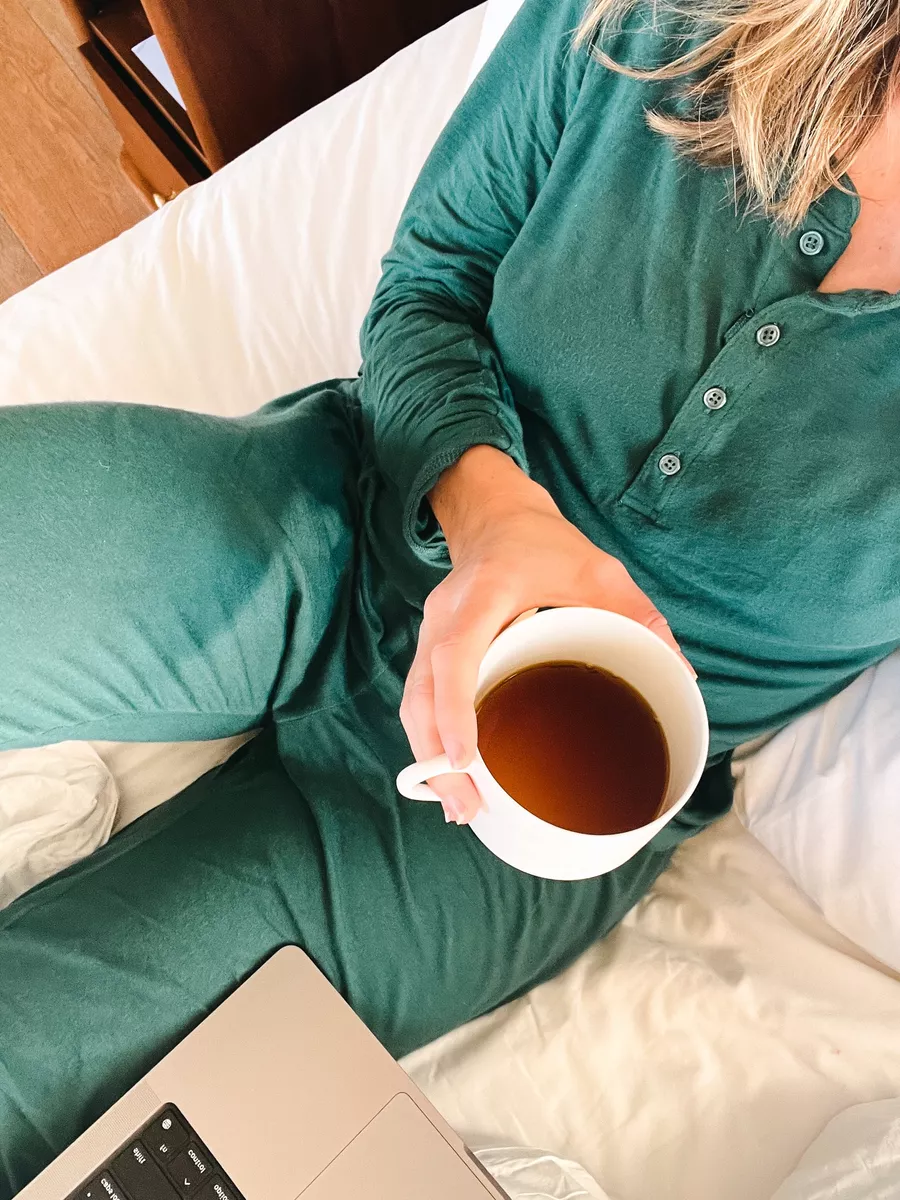 Sadly this green henley set sold out during their annual Cyber Week sale. Good thing I ordered my gifts early!
Men's LAKE Pajamas
While Tommy wouldn't likely wear a full PJ set, I did get him these Pajama pants last year (and got my brother in law a pair this year!), and he LOVES them. They're SO much softer than guys are used to!

My Review Of Lake Pajamas
If you've read through the intro of this post, you know I adore LAKE Pajamas. I wish I had known about them sooner, but I'm so thankful I discovered them when I had Thomas so that I could appreciate them in my early postpartum days!
If I could recommend one set, it would be the Pima Bundle, so that you can try the shorts and the pants. Get your true size, unless you plan to dry them in the dryer or like your PJs a little roomier. Otherwise, stick to your traditional sizing and wash them on a delicate, cold cycle.
I hope you'll order a pair of LAKE Pajamas and tell me what you think. If you already own and love LAKE, tell me in the comments below!
Shop The PJs