I'm super excited about the finds for this week's Amazon Fashion Series. You can see previous week's finds  here.
This week, I'm highlighting a pair of jeans I got last week. I noticed that these Levi's were on sale when I was sourcing last week's post, and they are STILL under $50 as I'm writing this. Even though I did include them last week, I'm including them again here since I have photos now.
The other item I'm really excited about is this Drop Sweater. The colors are fun, but not too bright for the winter. You'll see that sweater linked below.
Alright, without getting too chatty, here's this week's volume.
My Amazon Fashion Favorites: Vol.5
Ryder Ombre Mock Neck Sweater
I linked this sweater in last week's Amazon blog post, but it hadn't come in yet! The colors are the perfect blend of happy yet muted, which feels right on par with winter style. It's under $50 but could easily be mistaken for a more expensive sweater with the unique design.
I got an XS and I like the relaxed fit It would be super cute paired with winter white jeans too! The key is to wear pant that's tailored. Since the top is slouchy, I find it looks best to wear a pant that's flattering and slightly fitted.
I'm wearing the Dark Purple Ombre color.

Levi's Women's Wedgie Straight Jeans
Under $45 and a "more on trend" skinny jean. I give these a 10/10. I got my true size 25, and wasn't totally sure they fit when I first put them on. And I think that's because they're slightly stiffer than some of the other jeans in my wardrobe. Just give them a little time. They'll feel snug through the hip and thighs at first. Or, just size up one size from your usual.
(Here are more alternatives to skinny jeans if you're on the hunt).
I have the Love in the Mist (Waterless) color.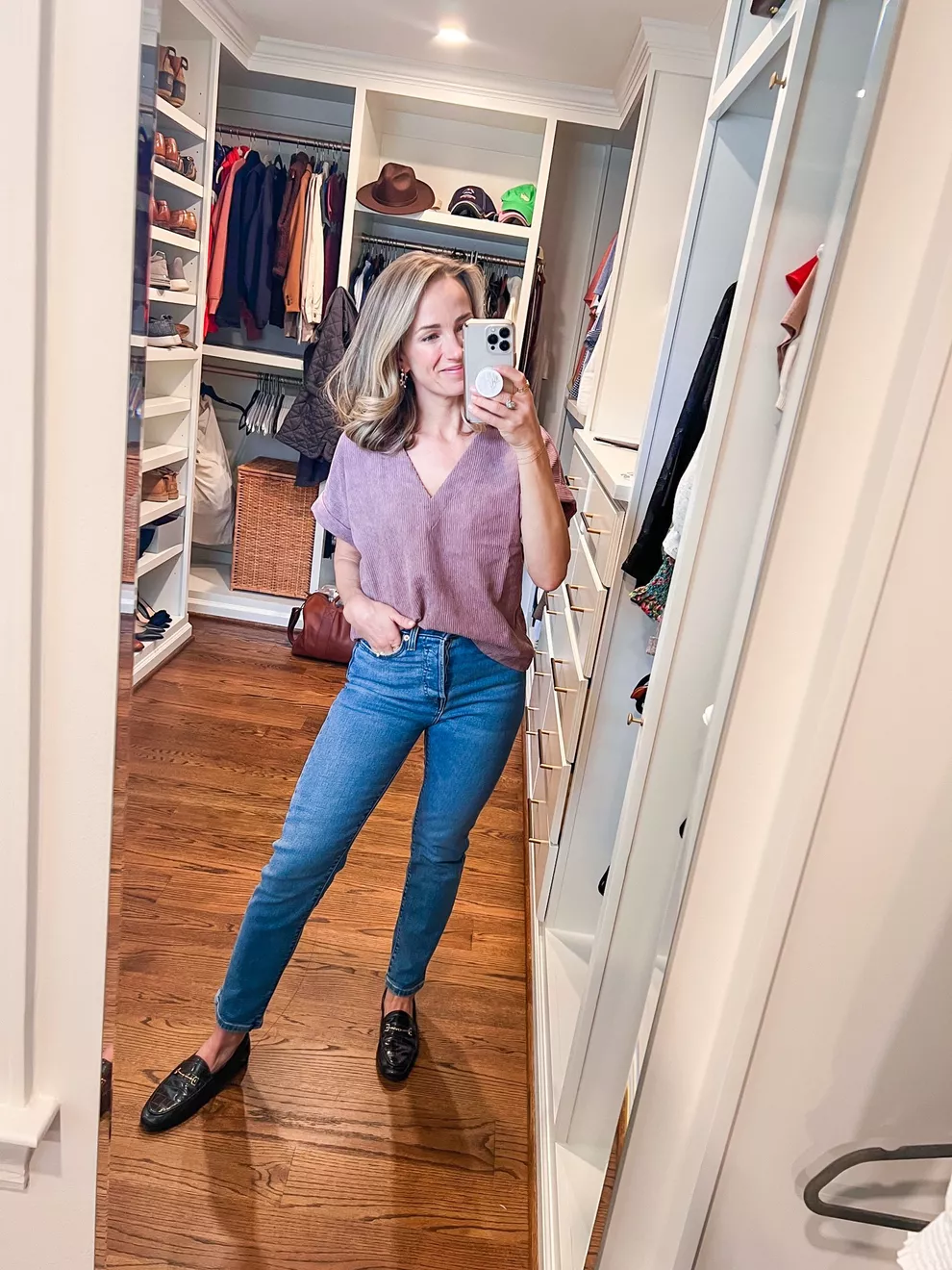 Top | Jeans | Shoes (very similar)

Double Bow Pointed Toe Ankle Strap Crystal Pumps
Remember when I posted these shoes from Walmart and they sold out IMMEDIATELY? Well I've got a similar pair at a similar price point. The best part? They come recommended by a friend so we can trust them.
One of the issues I had with the Walmart pair (other than them being too large since my size was sold out), was that my foot kept slipping out of the slingback. Unfortunately, sling-backs are hard to wear when they're not SUPER high quality, since the sizing is tough. This pair from Amazon wraps around your ankle twice, so you won't have that problem.
My friend did note that they are NOT super comfortable shoes, so don't expect to wear them throughout an entire day. But they're a perfect heel for a couple hours at a holiday party.

Claudia Cuddle Hoodie Midi Dress
Okay, this hoodie dress could be a miss, but I'm VERY interested in it. Since it's a hoodie, it gives a very casual, relaxed vibe, but the midi length could make it difficult to wear. If you're super tall, this would likely be a really fun casual option for you. If you're short, it may swallow you. I'm just not sure.
I would definitely pair it with sneakers, but I'd likely do a leather, chunkier sneaker as opposed to an athletic one. The Drop is usually pretty good, so I might order this dress and and try it.
They also make a short version, so if you love the style but KNOW you wouldn't wear a midi, try this one.

Mariko Puff-Sleeve Crew-Neck Stretch Jersey T-Shirt
I'm especially excited about this top because it looks SO similar to something I own that's sold out. Here's the top I have:
Which, aside from the color, looks super similar to this from Amazon.
I love the puff sleeve (and the price). You can wear this throughout the winter and into the spring. It's a perfect take on a simple tee, so you'll feel just a tad cuter ;).

Thick Knit Cabin Cozy Crew Wool Socks
If you're on the hunt for boot socks this winter (I don't actually wear boot socks unless I'm in Boone!), I found the CUTEST set! These come in a pack of 5 for $7, which is mind blowing. The colors and patterns are really sweet too–– and even if no one else will see them, I bet they'll make you smile. ;). These would make a great stocking stuffer! (More stocking stuffer ideas here.)

Oversized Fuzzy Knit Chunky Warm Pullover
I'm eyeing this pullover like a hawk. I LOVE the wide, cuffed sleeves, the oversized fit, and the color options. Do I need another fuzzy pullover? Absolutely not. Do I want this? 100%.

Velvet Knot Bag
The perfect accessory for your holiday parties. This velvet bag is only $15 but totally chic. It reminds me of this designer bag, but I actually like the Amazon bag much better! J.Crew also makes a similar bag, but I'm sticking to Amazon because of the price.

Mini Trampoline for Kids with Foam Handle
Totally random, I know. But if you're looking for a Christmas gift for kids, this trampoline looks so fun. Thomas bounced on our friend's mini trampoline a week ago and loved it. It made me wonder if I should snag one for Christmas. I love the handle, and it's under $100.

That's all I've got for today. Happy shopping!
Shop The Post