Getting dressed while breastfeeding can be tricky. Trust me, I've been there. As someone who LOVES to get fully dressed and ready (yes, even though I work from home as a full-time blogger), finding a cute nursing wardrobe that made me feel good was essential. I loved breastfeeding Thomas, but I didn't want to wear a button down shirt every single day–and I especially didn't want to have to take my entire top off every few hours to feed Thomas. I know there are so many nursing mamas out there who feel the same way I did, so I thought a roundup of my favorite nursing friendly dresses would be helpful!
Not all dresses are nursing friendly — in fact, they can be the opposite of nursing-friendly if you have to pull the entire thing off! — so  I wanted dresses that made breastfeeding comfortable and convenient while still looking and feeling put together.
Aside from nursing tanks and bras, I never purchased nursing-specific clothing. I always found they were unflattering (way too boxy) and the nursing panels really weren't that convenient and they just added more bulk. So, all of these are just dresses that work really well for nursing! I always looked for button-front dresses, smocking (stretch is key!) or straps that could untie. Some nursing dresses have a built in double layer over your breasts to help with leaks and modesty, but I just made sure my bras provided enough coverage.
It can be hard to find cute nursing clothes, so I hope you find something below that works for your needs and style!
10 Nursing Friendly Dresses
Before we jump right into dresses, I wanted to mention that the Spanx Nursing Bra is the best of any nursing bras I tried (they make great nursing friendly clothing)! I wore it with everything that I could. In the very early weeks, I wore this nursing tank top a a lot. It's the best of all the nursing tanks I tried. (You can see more of my breastfeeding essentials here and my postpartum essentials here.)
You'll see a lot of smocking and button front tops below since that's what I'm drawn to. I don't have any wrap dresses linked because I found that I hated having to re-wrap my dress up each time I unwrapped it. It's a nice concept for sure, but it felt like too much work each time I tried it. You'll also notice a wide range of prices. When he was smaller and nursing every few hours and spitting up more, I got more affordable options that I wasn't as worried about. Once he got older and wasn't nursing as often and was a bit neater while nursing 😉 I started investing in higher quality options that I could wear for years to come. For the pricer picks, I also noted a similar affordable option.
Floral Maxi Tie Strap Smocked Dress
This floral smocked maxi dress with tie straps was SUCH a great Amazon find (go ahead and add to cart!). It's lightweight, flowy, flattering, AND it's under $50. This dress comes in 4 colorways/patterns and all of them are cute. Mine is the white option, and it has cute little floral designs all over it. I love anything with a small pattern because it's distracting from any milk or spit up stains!
This maxi dress is made of polyester and spandex, and you can easily step into the dress or pull it over your head. To nurse or pump, I pulled the straps off my shoulders and pulled the smocked bodice down. Because the smocking is super stretchy, this was a really easy way to nurse throughout the day. The smocking is also incredibly comfortable for all size busts (and changing bust sizes) as you breastfeed. Honestly, this would be great for maternity and nursing! (You can see my pregnancy wardrobe must-haves here, if you're still expecting your little one!)
The Nicole Dress from The Shirt
I LOVE this dress from The Shirt. It's such a good option to wear all day, but you can also dress it up with heels for a lunch or dinner out. This dress buttons down the entire front for easy nursing access. The buttons are easy to open and close which is super important. I have this in light blue, but it also comes in white.
If you're looking for a dress that feels very put-together, this is it. The ruffle collar and short sleeved add a touch of feminism to this shirt-style dress. When I was breastfeeding, I'd wear this nursing bra with dresses like this. I wear this most often with these flat sandals, but it's super cute with heels as well if you need to dress up more during the day for work. Note that this is a pricier item and I got it when my son was a bit older (18 months) but this is a similar, more affordable option if you're still breastfeeding every few hours.
Annie Smocked Dress
Another one of my favorite nursing-friendly dresses is by Tuckernuck: The Annie Smocked Dress. It comes in 3 colors, and I have the white version. The puff sleeves are SO cute, even on a super petite frame. The smocking on the bodice makes it incredibly breastfeeding friendly since you can pull down the sleeve and bodice as needed. I liked having a long sleeved dress option as well for days cooler days.
The material is 100% linen which feels AMAZING in the warmer months. I wore this all summer with slide sandals, but heels would easily dress it up for a nice dinner!
I found a VERY similar option on Amazon at a much lower price point, if you're interested!
Amazon Ruffle A-line Layered Swing Mini Dress
I LOVED this mini dress from Amazon when I saw it. It's such a cute option for a date night, lunch with friends, or even church (depending on length of course). It comes in a few colors and it's under $50. The smocked bodice AND shoulders makes it super easy to pull down to nurse, and it also makes it super comfortable (which we love).
I'd pair this dress with flat sandals if I was wearing during the day, but I'd throw on fun heels for dinner out.

The Ellie Nap Dress
I've never tried the Nap Dress from Hill House, but every time I see them on someone else I LOVE them! Hill House makes SUPER comfortable day dresses that you could easily dress up for the evening too. I love that these Nap Dresses are machine washable (great for nursing mamas, IYKYK) and they have pockets. Since you can easily pull the dress down and the stretch has so much comfort, this is perfect for maternity and nursing moms.
You can get the Nap dress in tons of prints and colors, but for the early fall into the cooler months, I'd go for a darker color like black, navy, or the Moody Floral Poplin print. For everyday wear, I'd pair with slide sandals, but dress it up with these heels for a night out!
Here's a more affordable option that's VERY similar!
Striped Sankaty Tie-Waist Dress
I've been super impressed with Vineyard Vines clothes lately, especially their dresses. They have some really cute nursing friendly options, but this Striped Sankaty Tie-Waist Dress stood out because of how comfortable it looks! Anything with stretch is always great, but it's especially nice when the stretchy material looks so put together. This dress is made with quick-drying and moisture-wicking material that has 50 SPF built into it! AMAZING!
The front buttons make this nursing friendly and easy to wear all fall. Pair with some cute white sneakers. 
Target Linen Tank Dress
I love a straight neckline like this dress has! This Linen Tank Dress is only $20 and you could easily transition this into fall with a sweater thrown over your shoulders. I'd pair this with white sneakers for fall. The neckline is elastic and straps are adjustable for easy breastfeeding, and the material is super lightweight and breezy, which is nice for those of us who sweat a LOT during the postpartum phase.
Chambray Callahan Shirt Dress
I LOVE chambray when fall rolls around. This Chambray Callahan Shirt Dress by Tuckernuck is the perfect nursing-friendly fall dress. You could pair it with boots, booties, sneakers, or sandals. The button front makes for easy breastfeeding access, and the dress is just worth the purchase anyway! (I'm planning to order it!!)
This dress is 100% cotton so it's very lightweight and can be washed at home (just hang to dry).
The Peregrine Midi Dress
If you're in need of a nice dress for a fall wedding, I found the prefect one from Anthropologie! This Peregrine Midi Dress has the best fall colors with comfortable smocking for breastfeeding moms. I love the midi length for everyday AND more dressy occasions, and whether you're breastfeeding or not, this is a great fall find. It's cotton, so no need to send this to dry cleaner either!
For a nicer occasion, I'd pair this dress with these heels and gold jewelry. The shoes are more of a champagne color, but it will translate well to pair with gold jewelry with these shoes since you won't see them side by side.
Here's a similar v-neck style dress but at a more affordable price point.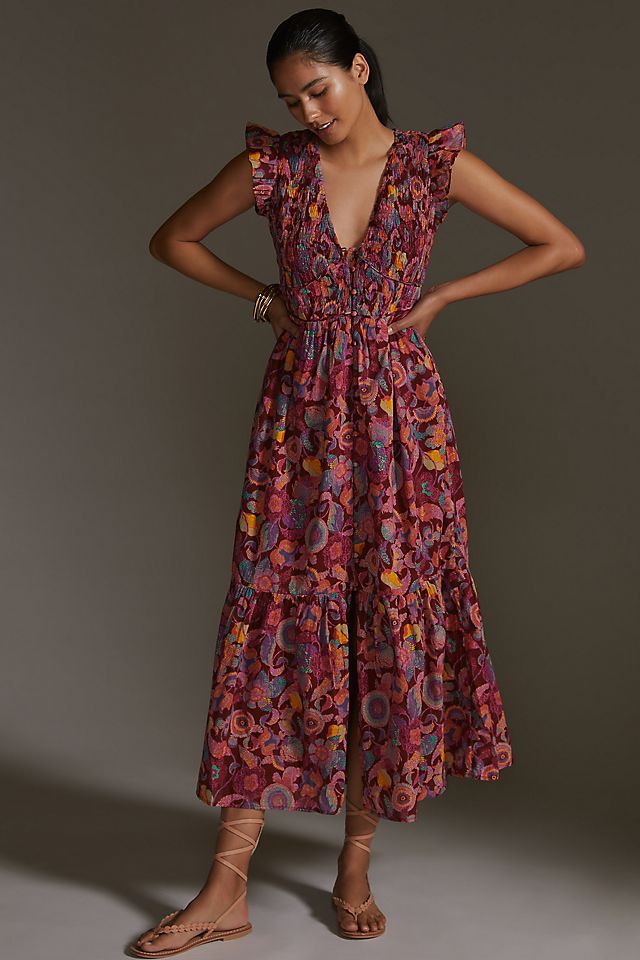 Smocked Midi Dress with Convertible Sleeves
Ready to have your mind blown? This Smocked Midi Dress with Convertible Sleeves is from none other than WALMART! I've been so shocked at how cute some of their stuff is right now. This orange midi dress is the perfect fall piece for breastfeeding moms. It comes in 4 colors, but I'm always drawn to orange.
The best part of this dress is the price (under $35 and on sale for $18 when I'm writing this!). I love the deep ultramarine color too, it looks like seersucker!
I hope this roundup helped you find a few dresses to wear while you're breastfeeding. There are SO many cute options that make nursing easy, you just have to know what to look for. I'll continue to update this post with dresses I find as I'm shopping, so feel free to bookmark this post and check back later.
If you have an all-time favorite nursing-friendly dress that isn't included – let me know in the comments! I want to know what it is.
Shop the Post