I've always been partial to plaid for the holidays. Something about it feels so festive and classic, yet it doesn't fully scream "Christmas!" like some holiday prints do.
This holiday season, I found a fabulous tartan/black-watch plaid style dress from Walmart (I know, I was shocked too!), and it sold out almost immediately when I shared it. Since then, I've been on the hunt for more plaid dresses for the holidays. While I do LOVE a true tartan print, I'm also a fan of black-watch plaid and other variations of plaid for the holidays, so I'm sharing lots of different options. The best part? Everything linked in this post is affordable! There are some very very pretty plaid options from more expensive retailers, but for the sake of this post, I'm only rounding up affordable plaids for this season!
By the way, did you know that the tartan print actually originated from Scotland centuries ago? It was used as a Scottish symbol of power. And maybe I love tartan and plaids so much because I'm 1/4 Scottish. 🙂
Since the holiday season is officially upon us, I hope this roundup helps you find something fun to wear for events this season!
Let's dive in.
Tartan Plaid Dresses Round-Up: Affordable Holiday Plaids
Free Assembly Women's Turtleneck Mixy Dress
The dress that inspired this full post is from Walmart, and it sold out almost immediately after posting. I check to see if it's been restocked often, and every once in a while they'll have a random size in stock, which is why I'm including it in this post. I LOVE that it's one piece, but gives the illusion of a skirt and top. The bow is removable, so you can tie it however you'd like. This also makes the sizing more forgiving, so you could size up if they have one size up in stock online.
I'm wearing an XS here! You will not believe the price: $36!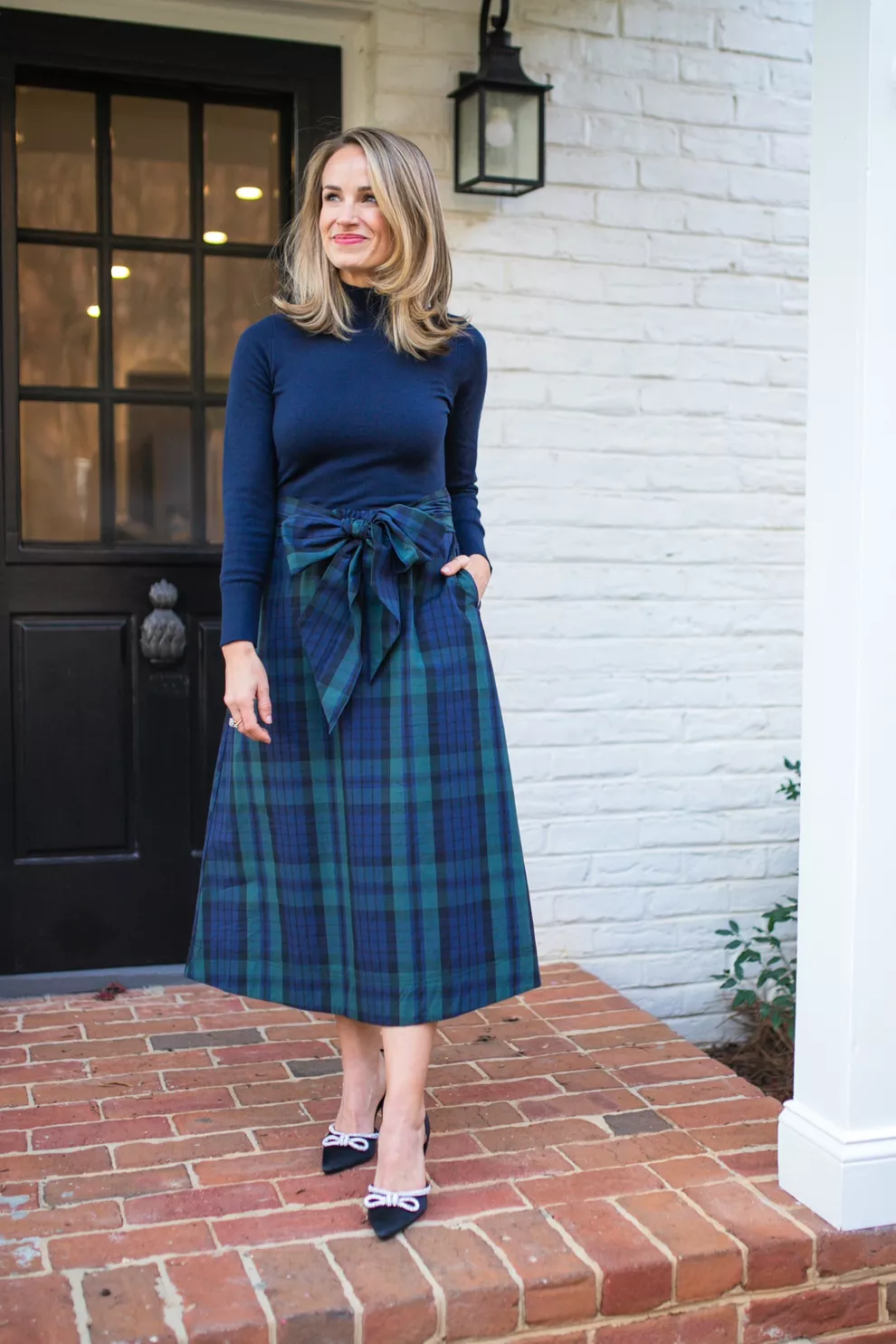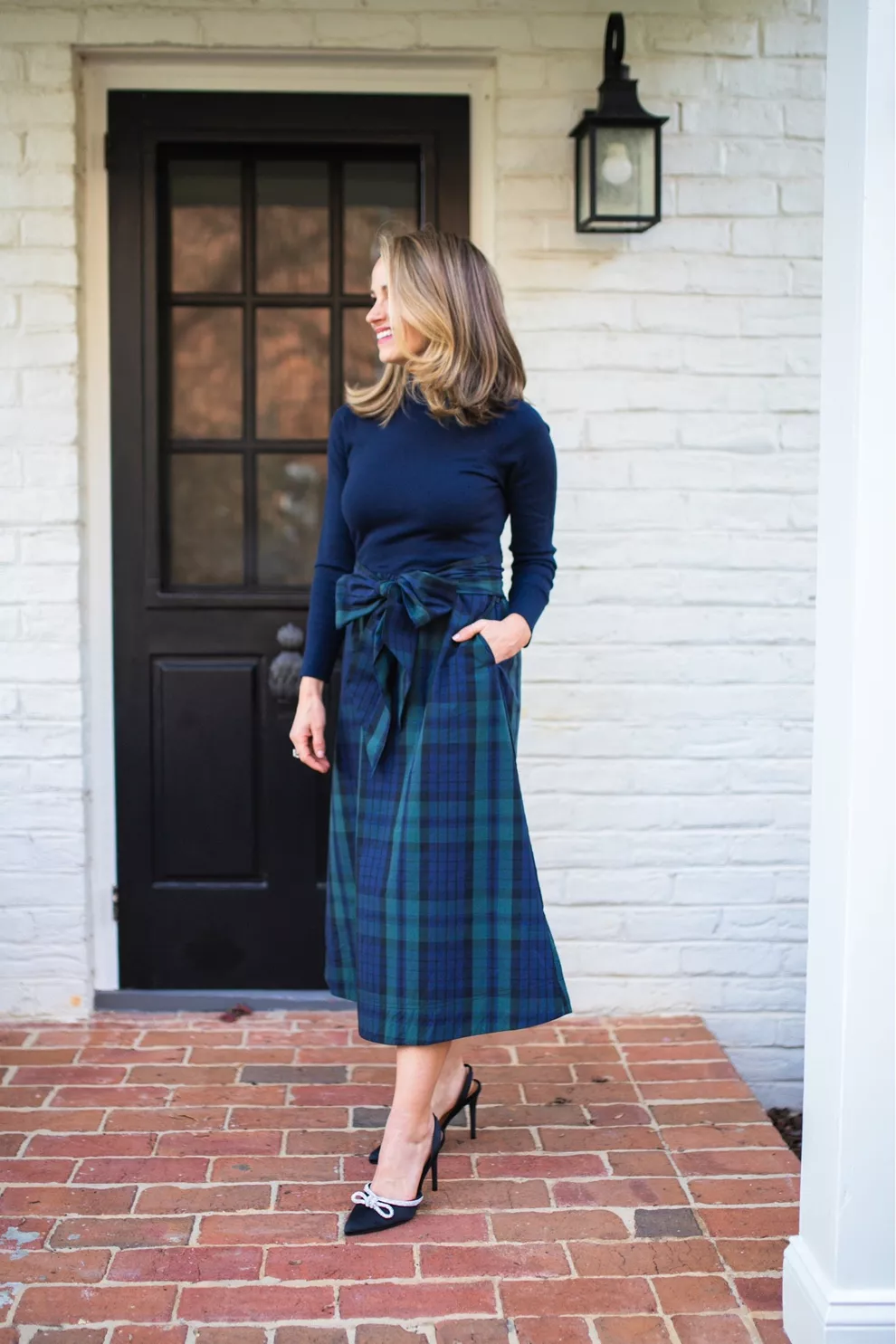 Plaid Winter Warm Flare Skirt
If you love the look of the first dress from Walmart, you'll love this skirt! You can get the same look as the Walmart dress by pairing this with a turtleneck. It's only $40 and runs TTS (I have an XS). I actually ordered this so when I try it on, I'll add photos!

Peter Pan Collar Long Sleeve Shift Plaid Dress
I love the feminine peter pan collar on this dress. The shift style is super cute and perfect for Christmas Eve church services. I'm wearing an XS and it's $30! You honestly can't beat it.

1950 Boatneck Cap Sleeve Vintage Swing Dress
How cute is this dress. The style is totally vintage and I love it. It's such a fun option for Christmas Eve services and cocktail parties. It fits TTS (I'm wearing an XS). I love that it has a waist tie, which helps accentuate the waist.  It's under $35
I also ordered the green plaid version which didn't come with a belt. I love both, but I prefer the belt and I prefer the green colorway on me.

High Neck Plaid Fit and Flare Midi Dress
This high neck dress is a fun one. I love the plaid that's not totally holiday so it could work from November – February. It's under $40, and true to size! I'm wearing and XS.

Free Assembly Pleated Shoulder Mixy Mini Dress
Another amazing Walmart find is this plaid sleeve mini dress! I love the little ties at the wrist, and you just can't beat the price!

Plaid Tiered Mini Dress
This blackwatch plaid dress is from GAP, and it's a perfect blend of classic (with the print) and contemporary (with the swing fit). The price is great, at $60, and you could pair it with black booties or heels for the holiday season!

Flannel Shirt Dress
This Flannel Shirt Dress by Abercrombie is another great contemporary take on the plaid print this season. The shirt-dress style fit is perfect paired with the belt. The price is also amazing at $56.

Red Tartan Collared Shirt Dress
This red plaid dress from J.Crew Factory is super fun for Christmas. While I'm typically drawn to the green and navy color ways, this red print is truly festive, and it's on sale right now for $45!

Happy shopping this holiday season!
Shop The Post