Women's Resort Wear: What I'm Packing for the Caribbean
I'm kicking off the new year the best way I know how: with a trip to the islands with Tommy. While I'm sad and a little nervous to leave Thomas, I'm SO excited for time with Tommy, and I know we'll both be glad we went. And then glad to get home to our baby!
The first tropical vacation I ever took was to Hawaii as a graduation trip. One of my friend's dad travelled a ton for work and had so many miles that he was able to fly 8 girls to Hawaii with his miles. So, we just split the cost of a house and it was amazing. The downside? Hawaii was the first beach I EVER visited so all other beaches are a bit of a letdown. 😉 I went to Hawaii a few years later but haven't been in about 18 years, mostly because it's just so far from me now. I grew up in Utah so it was a lot easier to get to Hawaii.
Now I'd much rather go somewhere in the Caribbean simply given the easier travel time. (My travel agent LOVES Hawaii so sometimes I'll give her to her wishes that we go there and we'll tack on a trip there after a Utah visit!)
The other tropical places I've been are St. John and St. Lucia, both of which are amazing! (You can read about our St. Lucia trip here.)
Women's Resort Wear: What I'm Packing for the Caribbean
For this trip, we're headed to Dominica. (Not to be confused with the Dominican Republic. They're different.) It's our first trip without Thomas, so I'm ordering a few fun outfits and accessories. It's also worth noting that I actually do need some new resort wear pieces, since the last time I went to a resort like this was our honeymoon five years ago.
I'm excited to freshen up my "summer" wardrobe a little early, and I know I'll get good use out of my new purchases once the warm weather rolls around at home.
For breakfast and lunch, I can probably get away with wearing casual cover-ups like a kimono or a light cardigan, but I would also like to have some more dressy outfits that I can wear out in the evening. I'm looking for a few tops and bottoms that I can mix and match to create different looks, like a jumpsuit, a mini dress, a pair of shorts and a blouse, or a skirt and a blouse. I want to make sure I look stylish and put-together but am still comfortable.
Alright, let's get into it. If you're planning a trip somewhere warm this winter, I hope these ideas help! And if not, save this post for the warmer months.
Flowy Dresses
I'm always drawn to airy, floor length dresses when I'm planning for a trip. There's something special about wearing a light, breezy dress – it's liberating and comfortable in hot, humid climates. All I need to do is add a pair of sandals and a clutch bag, and I'm ready to go.
I reached out to Revolve when I started packing for this trip because I heard they have a personal shopping service. I sent them my size, the trip details, and even my Instagram so they could see my style. They sent a collection of items back that was SPOT on with my style and the vibe of our trip. I'm linking a few of those in this post!
Tina Midi Dress
This Midi Dress is so cheerful and vibrant. I'm a big fan of bright colors, and this dress has definitely caught my eye. The ric rac straps add a unique touch and make it stand out from other styles. I'm sure this is going to be one of the hottest trends of the year, and I'm excited to see it making a comeback. It's a great way to add a bit of quirky flair to any outfit. It's on the pricey-er end of dresses, but it's different than anything else I have, and I know the quality will be worth it.

Anjeli Maxi Dress
I absolutely adore the muted green color of this dress, and I plan to accessorize it with some vibrant, eye-catching jewelry. I'm not usually one for wearing something so exposed, but it's a resort after all, and this dress is formal yet casual enough for the occasion. It's also incredibly lightweight and comfortable, which is crucial when you're indulging in delicious food on a daily basis.

Alora Dress
I'm totally in love with this long sleeve cut-out dress. The intricate detailing of the dress is simply stunning; it features a deep V-neckline and a beautiful open back with dainty tie-up straps. The fabric is light and airy and perfect for summer days. The tortoise shell ring is the perfect little detail that adds a hint of edginess to the dress. It's a great piece to dress up or down, depending on the occasion.

Lorelei Maxi Skirt and Top Set
I'm really excited about this Petal and Pup set I recently purchased. It's not a dress, but it's definitely fun and it's going to be perfect for our upcoming trip. The prices are very reasonable, and I'm wearing an XS in both the top and skirt. I'm fairly new to this brand, but I've already found a few really great items. I'm sure this set will be a great addition to my wardrobe!

Pink Linen Set
This set isn't technically a dress either, but I ordered it for this trip. I got the square-neck top and both the linen pants and the linen maxi skirt. I'm going to see which combination looks cuter when it arrives. The pink color is super fun, and I love the idea of sets for vacation style.

Swimwear
While I already have a few swimsuits that I plan to take on my upcoming vacation, I recently came across a few sets sold by Revolve that I absolutely love. The designs are so chic and stylish, and I can't help but keep thinking about them! I'm really tempted to purchase a couple of them for my getaway.
Tularosa Dreamer Swimsuit
I ordered this beautiful suit, and I'm absolutely ecstatic about it! The pattern and color are very feminine and delicate, with the added touches of ties and ruffles being the perfect details to make it even more special. The high-waisted bottoms are also very stylish and flattering.

Claudia Bikini Top and Delilah Bottoms
This red bikini top is SO cute. I love the thicker straps and the bright color. The bottoms are sold separately (bane of my existence), but they're also really cute (but they don't have great coverage, they're cheeky!). Since each piece is almost $100, I haven't ordered them just yet.

West Coast Top and Daytona High Waist Bottoms
This bikini top is SO fun. The two colors and the small cutout in the center is calling my name. I typically don't love bandeau style tops, but I'm drawn to this one. The bottoms that go with it are high waisted, which I love.

Lucci Top and Bottoms
This bikini is absolutely STUNNING. The one-shoulder top is so pretty, with intricate detailing and a lovely peach color that compliments all skin tones. The bottoms are just as perfect too, with a flattering fit that emphasizes curves and a comfortable waistband. I already own a dress by this brand and the quality is amazing, so I feel confident that this set is made with the same quality materials and craftsmanship. I'm sure I'll get lots of compliments when I wear it!

Duffy One-Piece
This vibrant chartreuse color is absolutely stunning! I'm in love with it. The cutout pattern is really attention-grabbing and makes this outfit perfect for a fun outing. It's bold and daring, but still looks great. I'm so excited to rock this look on my next trip! (Hoping to head to the beach again in the early summer!)

Day Sets
Like I mentioned above, I LOVE the idea of sets for this trip. While I could probably get away with wearing cover-ups for breakfast and lunch, I want to have a few outfits that are real "clothes" too.
Linen-Blend Ruched V-Neck Set
I recently ordered a floral set from Abercrombie and I'm absolutely in love with the pattern! I decided to go with the the top and skirt combination, and I absolutely love it. I'm just waiting on it to come in before I add a photo here.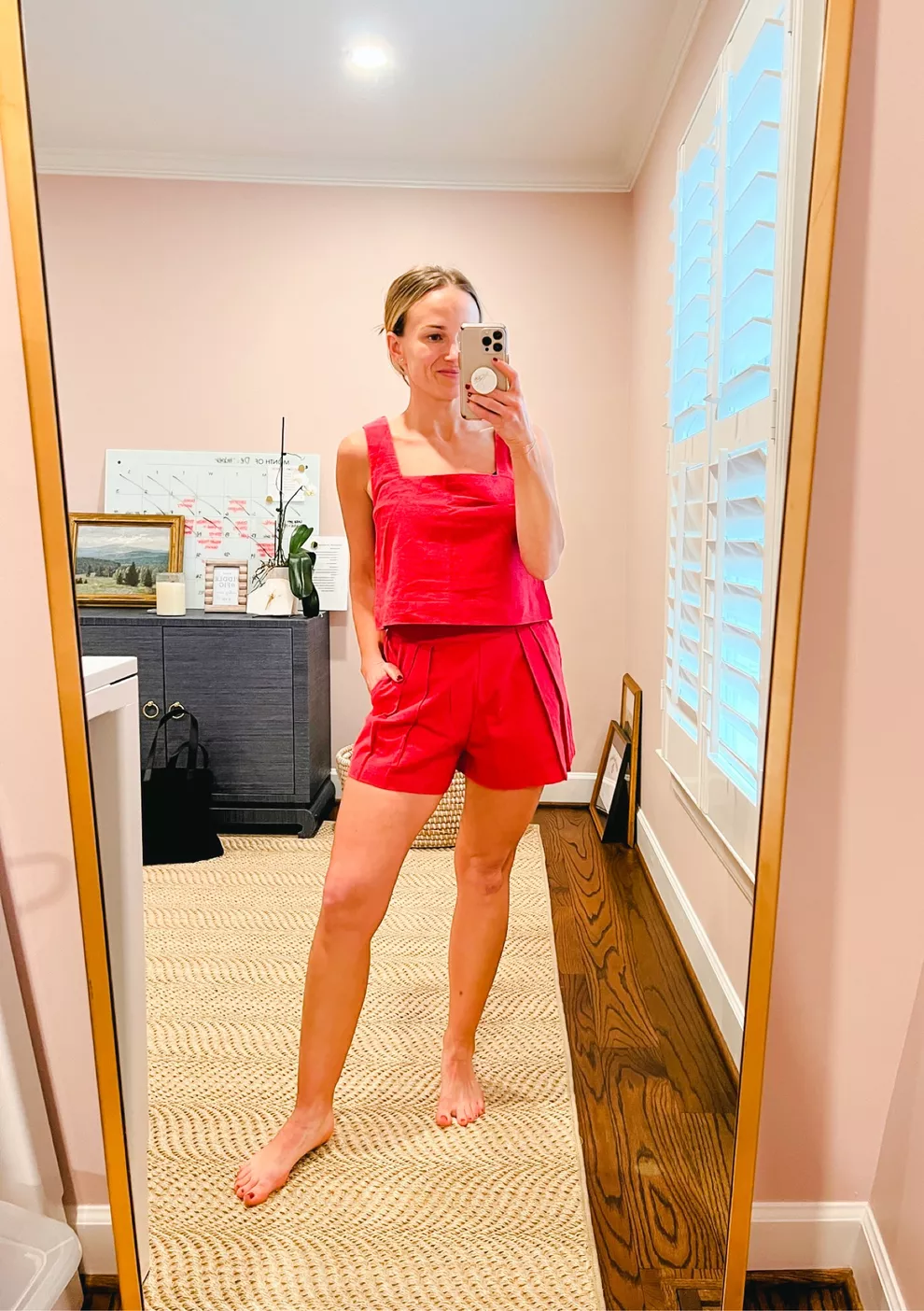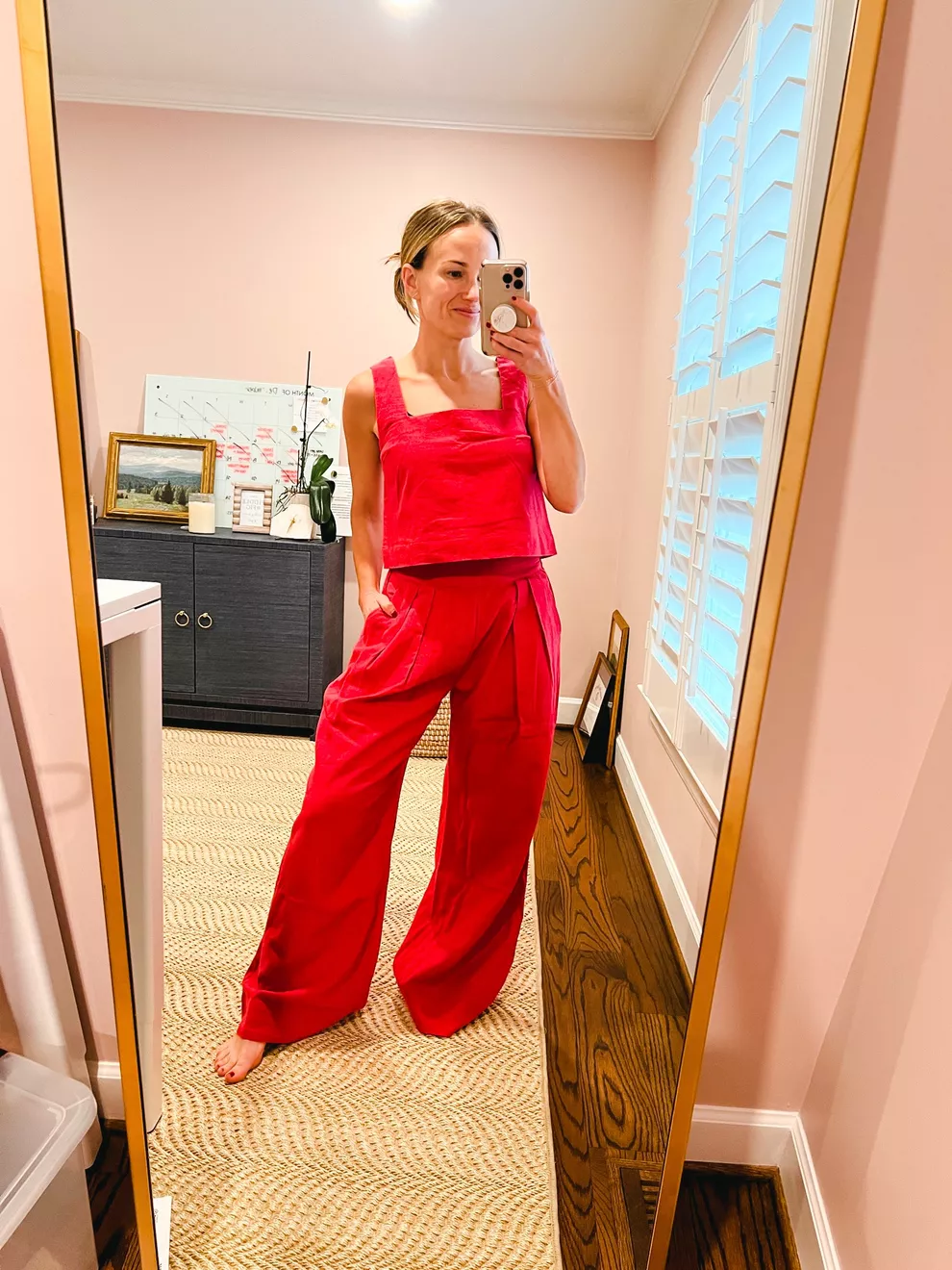 Penny Blouse and Tash Shorts
This dark pink blouse and shorts set is absolutely stunning, and I can't wait to get my hands on it! The blouse has a light, airy feel and the shorts are made of a comfortable, stretchy material that's perfect for lounging around all day. I could easily wear this set over a swimsuit for a day by the pool, or I could wear the blouse with some jeans once I'm back at home. It's the perfect piece for any occasion!

Comilly Halter Top and Shorts Set
This white halter top is SO fun with the lace up detail. The shorts that go with this set are a longer, tailored style. I love the linen material! You'd definitely want to wear a pair of nude undies with these shorts.

House of Harlow 1960 x REVOLVE Quinn Top and Sandra Skirt
I LOVE crochet, and I feel like this set is the perfect way to wear it. I'm not sure when else I'd get to wear a crochet set other than a special trip like this, so I think I'm going to order it! Shop the top here and the skirt here.

Coverups and Sarongs
I'm in need of a few new coverups, so this trip is a great excuse to shop for them.
Barcelona Dress
This could actually be worn as a true dress if you wanted, but I imagine myself wearing it as a coverup! I love that you could button it up to cover all the way up for a meal, or wear it loose and open by the beach or pool! If you were only going to get one cover-up, I think this is a perfect piece.

Keva Wrap Maxi Skirt
I love this see-through wrap sarong. It's the perfect material since it's lightweight but still pretty and makes a chic coverup. It was far too long on me, but if you're taller, it's a gorgeous option. You'd wear this with your swimsuit as the top — and I think it'd be cute with a once piece or bikini top.

Indigo and Violet Palladio Garden Priya Coverup
I love a block print, especially for warm weather. This Tuckernuck beach coverup is the perfect option for an easy throw-on coverup. It's pricey, but since i'm 5'1″, I think I could actually wear this as a sundress as well as a coverup.

Shoes and Accessories
Sandals, beach hats, and sunglasses –oh my! Don't overpack accessories. You'll only truly need one pair of dinner shoes, one pair of flat sandals (or flip flops), one sun hat, and a few pair of sunglasses (or one nice pair!). You can easily overpack when it comes to accessories like this, but I find that I never need more than just a few pair of shoes and a hat!
Croix Sandal
I love this lace up style sandal. It's not the easiest to just slip on, but SO pretty, and a great casual option that's also elevated.

House of Harlow 1960 X REVOLVE Cava Heel
This heeled sandal would be a great wardrobe investment, even without this trip planned. A fun neutral summer sandal is essential! I love the raffia material.

Coastal Raffia Hat
I LOVE this black sun hat. I haven't seen many people wear this color for a sunhat, so I love that it's unique.

Straw Clutch Purse
Since a purse or clutch takes up significant space in a bag, I plan to only bring one. I ordered this affordable clutch from Amazon and plan to wear it with the chain tucked into the purse, as a clutch.

Le Specs Bandwagon 51mm Sunglasses
These affordable sunglasses are my all time favorites if I had to choose one pair. They're durable and go with everything (and every face shape). You can't beat the price either!

Anea Hill Manhattan Sunglasses
And since I can't help myself, I'm also going to pack this pair of statement sunglasses (which are also a personal favorite). They're pricey, but use code TERILYN at checkout for 15% off  (making them under $200). They're super high quality, so they're worth the price.

These are all the picks I've got for now. I'll plan to keep this post updated throughout the spring and summer with new resort finds. Feel free to bookmark this post for reference later!
Happy shopping!
Shop The Post