This season, I've been on a wild goose chase looking for faux leather pants. I joked with a friend that by the time I find a pair I love, the trend will be long gone! Thank goodness I finally had some success at Abercrombie & Fitch.
Growing up, I hated Abercrombie because the sizing was totally wonky, and I could never fit into my true size (which, as you can imagine, is not a great mindset for young girls). But after a new CEO took charge in 2017, things really began to turn around.
Now, the sizing is actually accurate, the brand is MUCH (much) more size-inclusive (4 length options, and a curve love fit), and the quality is very good. As someone who's nearing 40, I can also say that many of their styles are tasteful and appropriate. In fact, one of my top 3 favorite pairs of jeans is by Abercrombie, so although they market to a younger crowd, they're also great for a more grown-up crowd too.
And I can't finish this intro without mentioning the amazing price-point of Abercrombie's pants. They're typically right under $100, and almost always on sale. So if you needed another reason to try them, there you go.
All of this to say, I have finally had a little success on the faux leather pants hunt, and I'm hoping I can help you out if you're also looking high and low for a cute pair yourself.
In this post, I'll share the 4 pair of pants I ordered, how they fit, how I'd style them, and which ones I decided to keep. You can also watch the video below to see them in action or watch this reel. 
Best Abercrombie Leather Pants
Mixed Fabric Ultra High Rise 90s Straight Jean
This is my favorite pair of the four I ordered. The Mixed Fabric Ultra High Rise 90s Straight Jean is a blend of black denim and vegan leather, and the combination is super unique and also a bit more casual. Not only did these fit me the best, since the sizing is consistent with their denim (this style is also made in a traditional full denim), but they were also the most comfortable and flattering pair on me.
They're a little edgier than I'd typically wear, but they're fun and different from all the other leather pants out there. Since they're half denim, half leather, they are easier to dress down with sneakers vs. needing to get a little dressed up to wear full faux-leather pants, which look best with heels. If you're easing into this trend, this might be your favorite pair too!
Order your true size in this pair. I'm wearing a size 25S, and I'm 5'1″ for reference.
Order here!

A&F Sloane Tailored Vegan Leather Pant
The next pair is the A&F Sloane Tailored Vegan Leather Pant, which fit more like a trouser. The first thing I noticed about this pair is that the waist is TIGHT. My usual size was way too small and gave me a small wedgie, so I'd recommend sizing up. Other than the sizing, however, I did love this style. They're dressier than the others I tried, and honestly a really pretty look.
You could easily pair these with a black turtleneck and pumps for work, or a bodysuit and heels for a night out. (Going to Vegas soon? These are so perfect).
I would size up. I ordered my usual 25S in Abercrombie pants and the waistband was far too tight and they were snug in the tush.
Order here!

Criss-Cross Waistband Vegan Leather 90s Straight Pants
Out of all of the full vegan leather pants I tried, the Criss-Cross Waistband Vegan Leather 90s Straight Pants was the most flattering on me. They have a fun criss-cross fly, and the sizing was more accurate with my true size. I've been loving traditional straight leg pants this winter, so I this style felt comfortable to me. I find that pants like this look best with strappy heels, since the hem of the pants hits right on my foot. These are not cropped.
I loved the waistband, but preferred the roomier fit of the tailored pants (pictured above), especially around my thighs. I wish I could combine the two!
Get your true size in this pair. They do have some stretch, which is nice.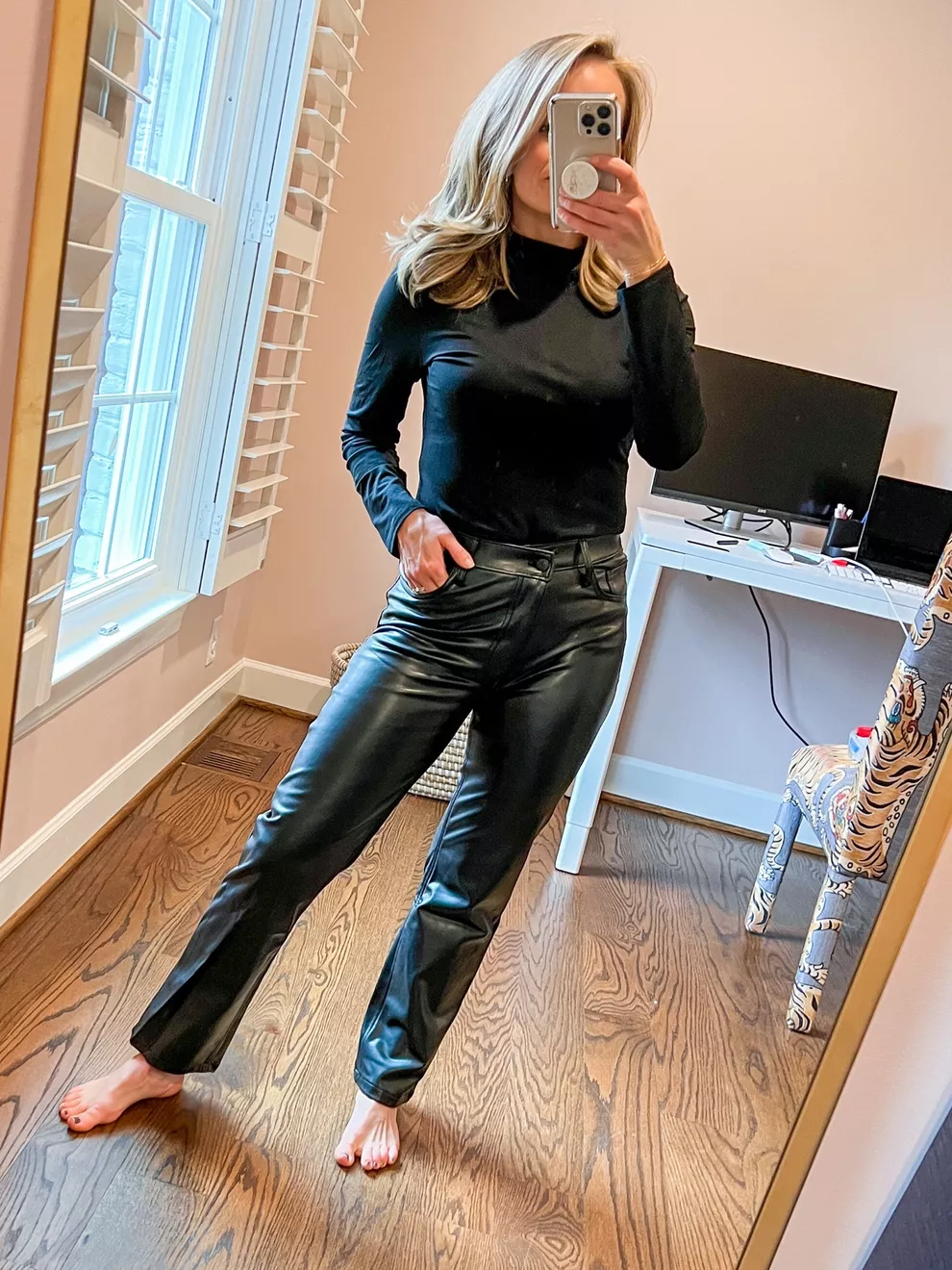 Vegan Leather Slim Flare Pants
Next up, the Vegan Leather Slim Flare Pants. I typically LOVE a kick flare jean, so I expected to LOVE this pair. Honestly I felt like the button wasn't going to stay closed. Either I need to size up, or this style just isn't for me. These are NOT cropped, although it looks like they may be in the photos online (she's wearing heeled booties, so it's hard to tell!). They're full length, so the fit similarly to a bootcut.
This style comes in black and a fun taupe color (which is a more work-appropriate style). They don't have pockets on the back which makes them a little dressier.
I'd order two sizes to try – your usual size and one size up to make sure you get the right fit.

Other Vegan Leather Pants from A&F
Vegan Leather 90s Straight Pants
I didn't order this pair since they were sold out in my size, but they definitely would have been in my cart if they'd be available. This is the most traditional looking pair of leather pants they sell, and since I know their 90's straight leg jeans fit me perfectly, I assume these would too.
The difference between this pair and the pair linked above is the waist band. These have a traditional fly, while the pair above has a trendy criss cross. button fly
This pair comes in 11 colors (ELEVEN!), and I LOVE the brown shade. Order these now while they're in stock!

Vegan Leather Ankle Straight Pants
My favorite pair of Abercrombie jeans comes in this ankle straight style, and I was SUPER bummed that my size was sold out when I placed my order. They're now fully in stock, so I need to place another order. I LOVE that this Ankle Straight style is cropped and would look so natural with heels.
The reviews say that these run short, so don't get the short length if you're not actually short ;). Get your true length, and expect them to be cropped.

The Bottom Line
Abercrombie is the place if you're on the hunt for vegan leather pants. They have a million styles, the price point is pretty good, and the sizing is close on most pairs. If you're between sizes, size up. And read the reviews before placing your order since some run a little smaller that others.
Overall, I'm super pleased with Abercrombie's inclusive sizing (their pants come in 4 lengths, which is AMAZING for a petite gal like me). I decided to keep the Mixed-Fabric Ultra High Rise 90's Straight Jean since it was the most comfortable of all 4 pairs. I suppose they still aren't true faux leather pants. But they're close enough for me.
I hope you find a pair that you love too! Happy shopping!