While Amazon is my beloved online retailer for all of the essential household things, their fashion selection didn't catch my attention until a few years ago. But in the past few years, I've been blown away by some of the fashion brands that Amazon has started carrying, along with some of their own in-house brands that are stylist and high quality. Of course, there are some items that arrive and are total crap either in fabric or fit, but for the most part, I'm always pleasantly surprised!
Every Thursday on the blog, I share a round-up of recent Amazon fashion finds. It's usually a handful of tops and bottoms, a pair or two of shoes, and a few fun accessories–around 10 items. Since Amazon has such a large inventory of stuff (and wide customer base), it can easily become overwhelming (and honestly, overstimulating) to sort through the vast amount of items, so I keep it short and sweet each week. I make sure my picks curated so that you can find something that truly adds value to your closet. And, I update the posts from the previous weeks to add commentary on anything I personally ordered so you have extra assurance if it's worth ordering (or if you should pass on it).
I also love that, in general, Amazon fashion is much more affordable than most of the places I tend to shop, like Tuckernuck. I've always been someone who loves a mix of high end and affordable fashion, and most of my readers do too, so Amazon has become a go-to for me. I'd say it's comparable to Abercrombie or Madewell, but perhaps a little more affordable and sometimes slightly lower quality.
Amazon Fashion Styles for Her
In today's post, I'm sharing all the details around successfully shopping for clothes on Amazon since I know how frustrating and overwhelming online shopping can be. I'll also share a few of my favorite purchases from Amazon, so that you can add them to your wishlist too!
What is Amazon Fashion?
Amazon Fashion is just the fashion section on Amazon.com. It's on the same website, and works the exact same way as anything else you'd order from Amazon.com. They have a wide selection of clothes, jewelry, shoes, and accessories for women, men, and kids.
Amazon carries hundreds (if not thousands) of brands, all the way from their in-house brands like Amazon Essentials, to luxury brands in their designer section (also called luxury stores). Amazon actually owns ShopBop, so they have an entire section of ShopBop pieces on Amazon.com too (which comes in clutch when you have a Amazon gift card;)). The Drop is an in-house Amazon brand that always has a great selection of on-trend items. The quality is hit and miss but I've found some great coats and sweaters from the Drop.
In short, the Amazon Fashion selection is surprisingly good and varies in price point.
Amazon is a great place to buy on-trend items that you don't want to spend too much money on or if you have babies and/or toddlers around, it's a good place to buy flattering pieces that can get stained without being devastated.
How Does Amazon Fashion Work?
There are a few key things to know about shopping for fashion on Amazon.
1. First, you can order just like normal.
Checkout with the card on file in your Amazon account, try on the items when they arrive, and then keep or return them, based on your preference. This is how I typically shop since I usually know what I'm looking for, and I find Amazon returns super easy.
2. The second way to shop on Amazon Fashion is with Amazon Prime Try Before You Buy (previously called Amazon Prime Wardrobe).
This is a smart way to shop if you're working on building your wardrobe, but aren't sure what you need. This service is free to Prime members and lets you try clothes and shoes before you buy, without putting it on your debit or credit card. This is very similar to boutiques that let you take clothes home before you buy them, "on approval". Everything just looks best when we try on in our own mirrors at home, don't you think?
All Prime members can use Prime Try Before You Buy for free with their membership, and if you're not a prime member, you can try it for 30 days at any time.
The third way to shop with Amazon is with their Personal Shopping Service, which is an add-on to the Prime Try Before You Buy service. You can take a quiz that outlines your style preference and then a personal shopper will help you find items that fit your style and budget. This is not included in an Amazon Prime membership, and costs $4.99 per styling. It's important to note that this service isn't instant. It takes a few days after submission for your personal shopper's picks to arrive in your Amazon shopping app. From there, you can preview the items and order.
This is a good option if you need a major wardrobe overhaul, have a special event to shop for, or a trip coming up. (I used a similar service from Revolve for my recent trip to Caribbean.)
How to Shop Amazon Fashion
Here's how Amazon Prime try before you buy works:
Choose up to 6 items. This can be clothing, shoes, accessories, etc. The items must be eligible for prime wardrobe, so you can look for that term in the description as you shop.
You have 7 days to try-on your items and decide if you want to keep them.
Only pay for what you keep. Just choose the most convenient shipping option for you. They'll provide a return label. Keep in mind, that your items must be returned with tags ON and in their original packaging. They need to be unworn, unwashed, undamaged, etc. If your order comes in multiple packages, you can return your items with any of the packaging used.
I love this option when I'm thinking about packing for a trip! I love having some new things to take with me, and I recently ordered a bunch of items from Amazon. Since some didn't fit, I ended up having to send stuff back and wait for my return to complete before I was refunded. Using the Try Before You Buy feature would've been perfect since I wouldn't have had to wait for the refund.
The only downside to Try Before You Buy with Prime is that you can only do it with eligible items, so make sure to select the department you want to search in, and then filter or search by Try Before You Buy.
Best Amazon Fashion Clothes
Okay, now let's get to the fun part: the actual fashion items! Like I mentioned above, I do an Amazon Round-up every Thursday, so you'll always find updated picks in those post. I include everything from baby, clothing, shoes and accessories, to men's picks each week. If you want my weekly Amazon sent to your inbox each week, join my newsletter here.
In this post, I'm including a handful of favorite Amazon finds for each section below to give you an idea of the variety.
Dresses
The Drop is an in-house Amazon brand that's always SO cute. You'd never guess that their pieces are from Amazon, and the quality (of the items I own from the Drop) has held up super well. This tank sweater dress is one of my all-time favorites. It's thick enough to hide bra and underwear lines, but thin and lightweight enough to wear in the warmer months–a really versatile dress.
I wear my true size (and XS), and it does qualify as part of the Try Before You Buy program. You can see how I style it multiple ways here and see the black version on me here.
This long sleeve dress is another Amazon score. It's one of the most flattering styles I've ever tried because of the waist ties. The material isn't clingy at all, and it's a perfect thickness. The brand is R.Vivimos, and I've had success with their dresses in the past. I wear a Small in this dress (they don't carry XS, but the small seems to fit just fine). And great news – it's eligible for try before you buy :).
You can see it on me in this video too.
Last year when I was on the hunt for cute golf clothes for women, this dress was a perfect find. When I first ordered it, they didn't make a size XS, so I got a Small. Now that they have more sizing options, I'll order this again in an XS so that it fits just a little better. Unfortunately this dress does not qualify for Try Before You Buy, so you'll have to order it like anything else on Amazon.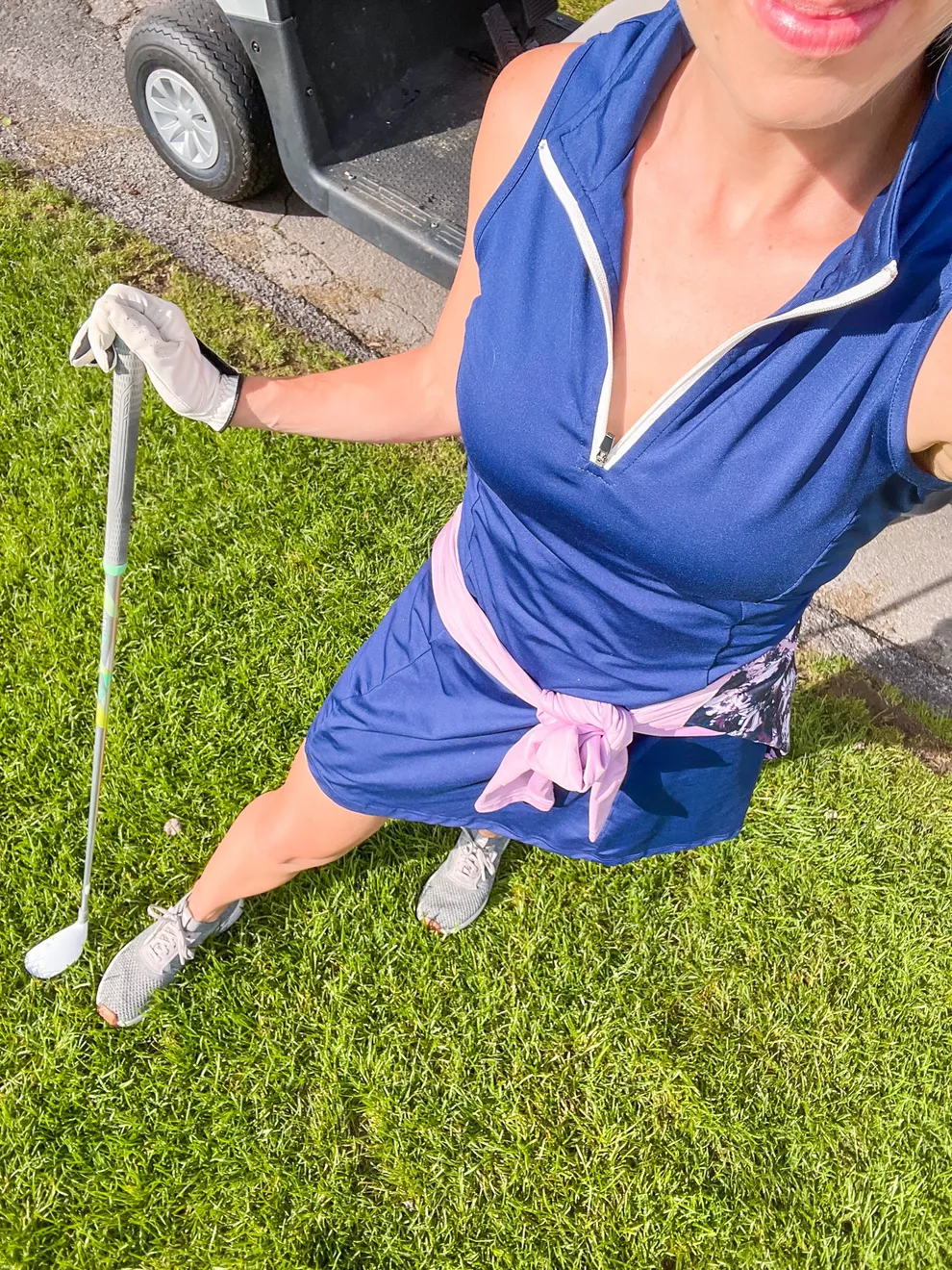 Sweaters
I frequently buy sweaters from Amazon, and I've had great luck recently.
I got this in the olive green and love how versatile it is. If you look closely, you can see the buttons up the side of the sweater, and that simple details makes it feel a little more high-end vs. a basic sweater. I got this in an XS, and it's the perfect length for high waisted or mid-rise jeans – not cropped, but not long.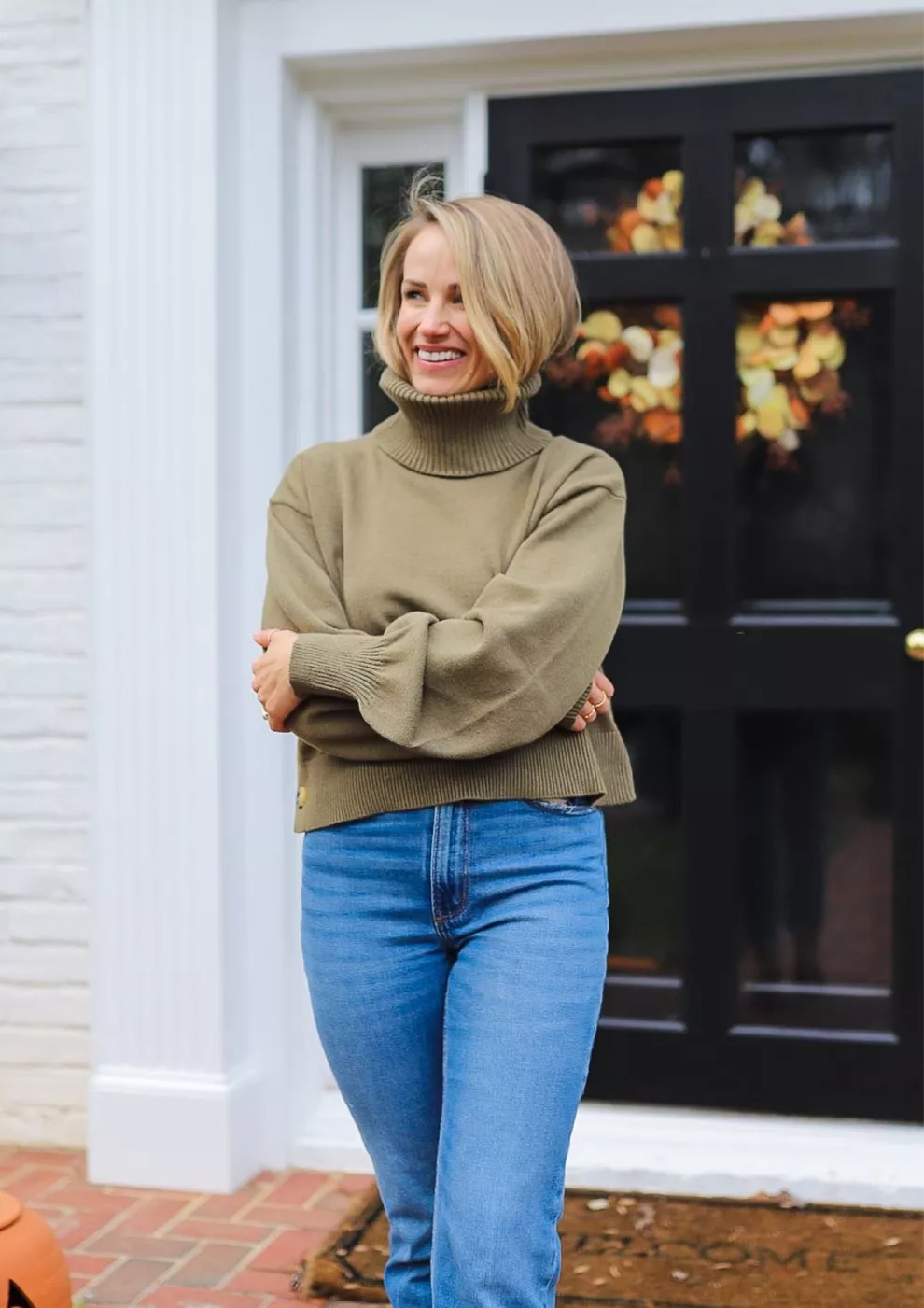 I absolutely love this ombre mock neck sweater. The colors are perfect for the colder months (but still fun and happy), and the knit is tight enough that you don't need a tank underneath, but you absolutely could layer one for additional warmth. I have an XS.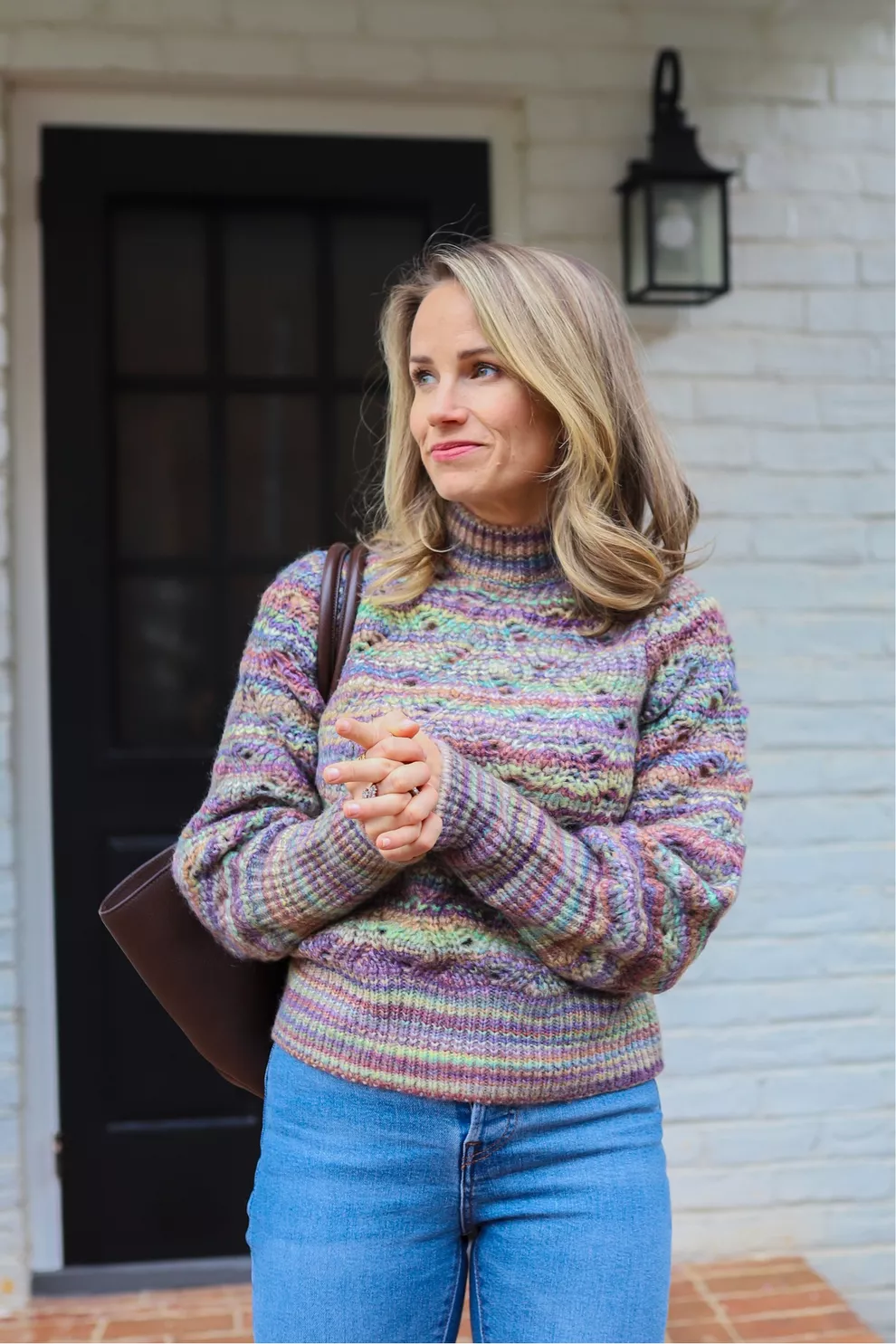 This striped sweater is another steal from Amazon. I got the smallest size they have, but unfortunately, they don't carry an XS in this. It feels somewhat sporty to me since the stripes are black, and not navy. I love pairing it with leggings (these are my current favorite!) and a ball cap.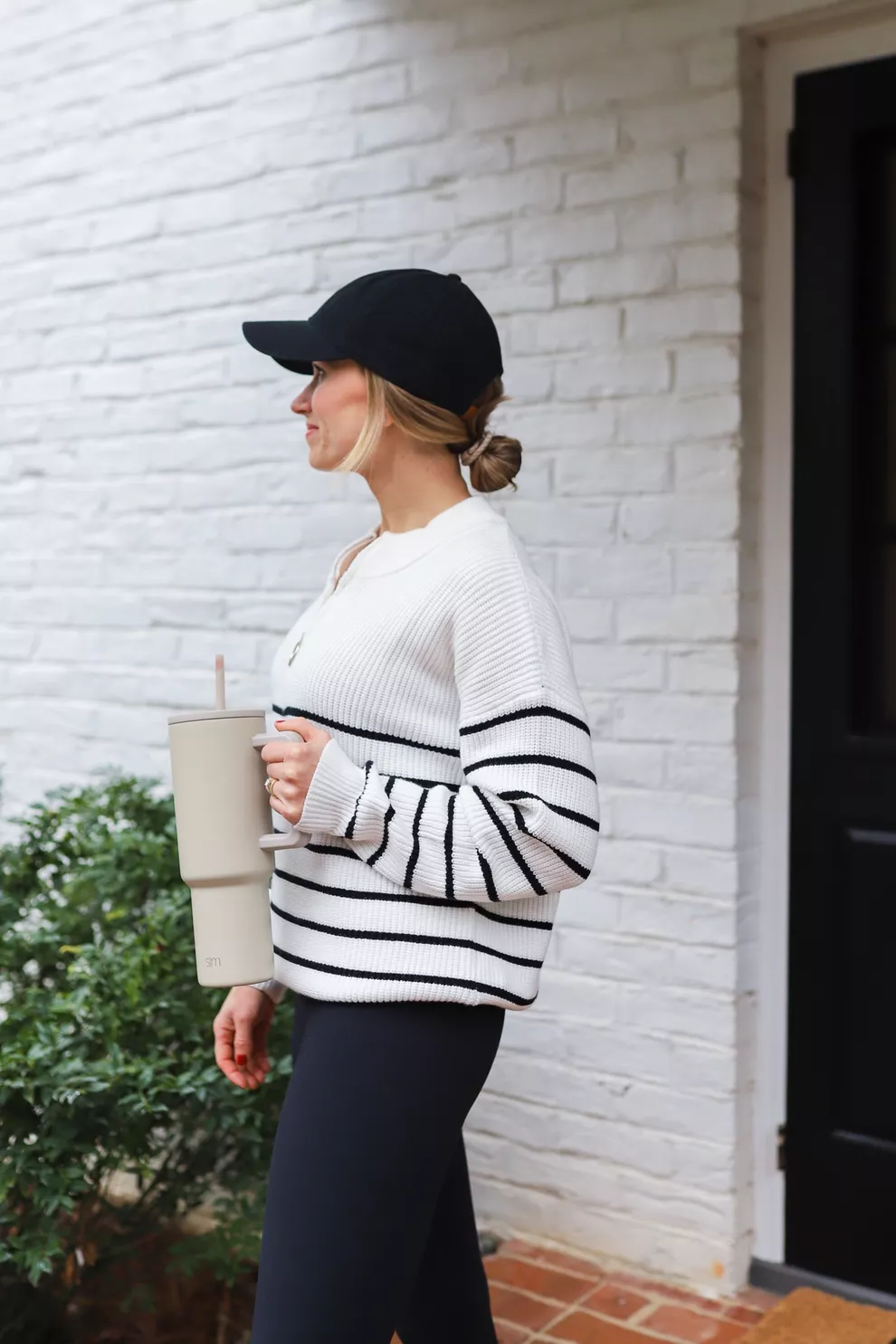 Shoes
Shoes are always great finds on Amazon since they have a lot of similar styles to some of our favorite (very expensive) brands. I love that you can achieve the same look for a much better price, especially when the shoe is for an event and you may not plan to wear it much more than that (like these which look just like this designer pair, for example). I also buy shoes from my favorite brands on Amazon to get that prime shipping.
Here's an example of a brand I already love, that Amazon carries. TKEES makes my favorite everyday summer flip flops, and I love that I can get Prime shipping on a product that can be hard to get quickly. That's one of the main perks of shopping with Amazon, as we all know. You can't beat that Prime shipping.
I wear a size 7 in these flip flops.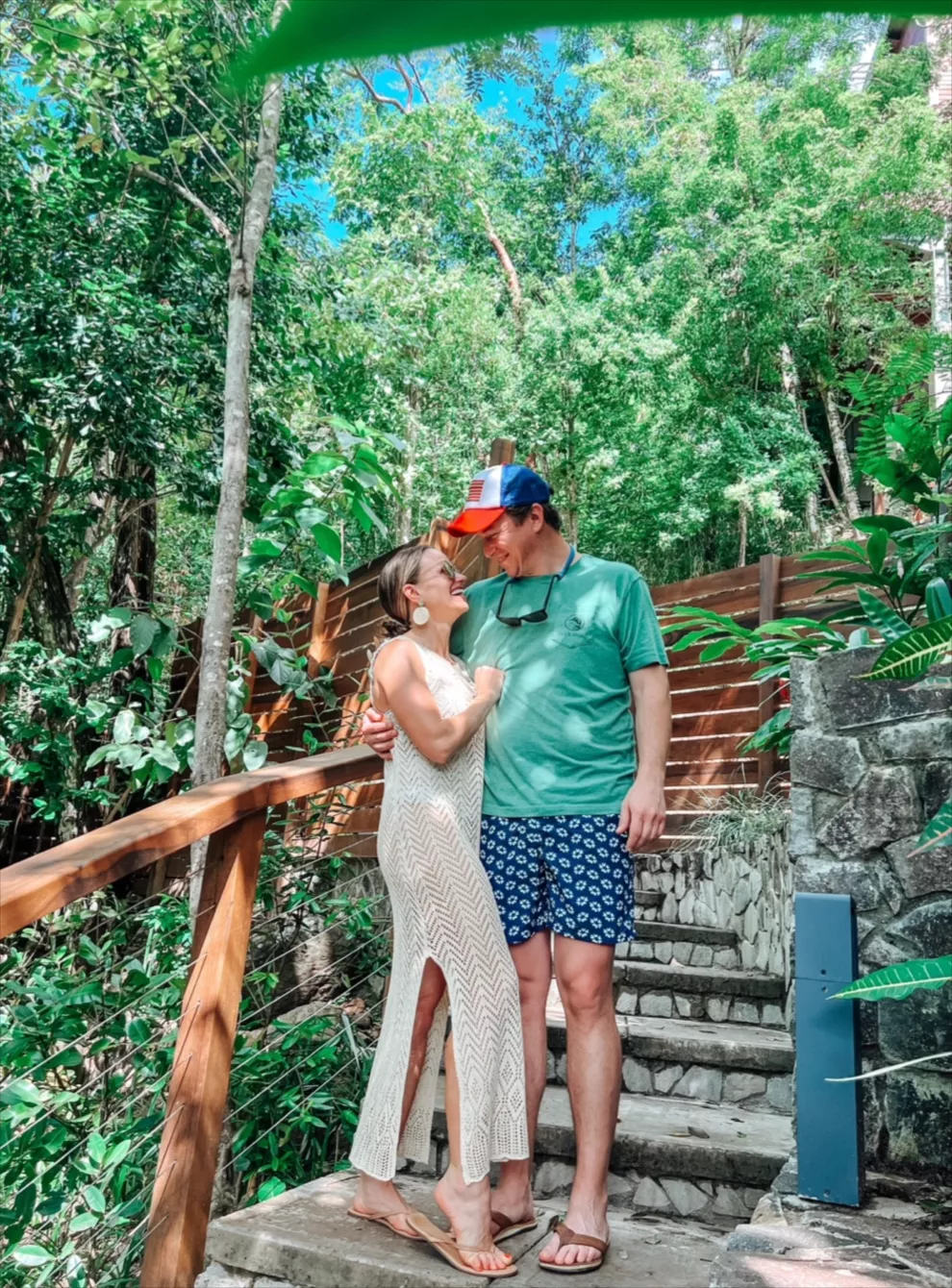 These are another one of my go-to pair of shoes in the summer. I love the white color against a tan They run TTS.
Workout Gear
Amazon has also become my go-to for workout clothes. I kept hearing people say things like "These are a dupe for Lululemon" or "they're better than Lulu" which I couldn't imagine. Turns out, those people know what they're talking about!
This is the pair I compare to Lululemon, and I'd say they're 90% as good in terms of fit and structure, but even softer than the real thing. I wear an XS.
Another piece from the same brand. This top is super supportive, very flattering, and a fraction of the cost of Lululemon. I wear a size Small. It has removable padding too.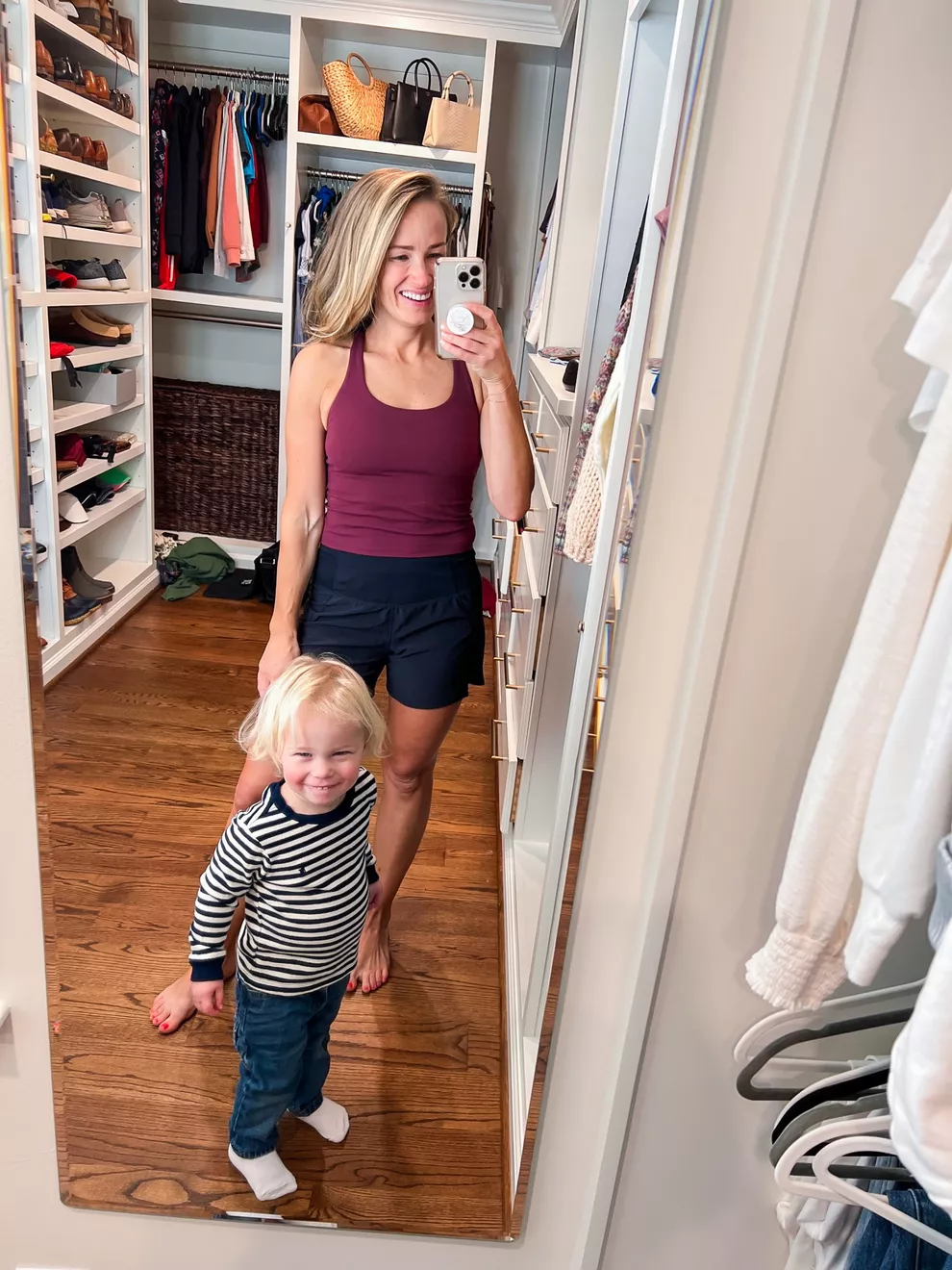 Now this is when I chime in with the others and say, "they are better than Lululemon." They're lightweight and incredibly flattering, and finding joggers that fit well is a hard task. I wear an XS.
If you love Lululemon's Everywhere Belt Bag, you will LOVE this lookalike. It comes in 20+ colors compared to Lululemon's 2-3 at a time. It's also *cough* in-stock. I reviewed this bag against the Lululemon version in this blog post, and spoiler alert: I like the Amazon version more!
Bottom Line
I can confidently say I've found some of my favorite go-to pieces from Amazon. While it's fair to be wary (who wouldn't be at those prices!), Amazon has truly stepped up their game. I recommend to read the reviews when you're shopping, since that will help you make a confident decision on sizing – and make sure to keep your eyes out for my weekly Amazon posts and join my newsletter here to get them sent right to your inbox! I'll do the shopping for you :).
Shop The Post