It's getting COLD over here (but who knows, it could be 70 degrees by next week), so I'm rounding up my favorite winter wardrobe must-haves for me, my one year old son, and my husband. And let's be real about the "cold" in North Carolina. It rarely gets below 20, and I fully realize it gets a LOT colder in other parts of the U.S.
But I'm from Utah and we visit Boone, NC regularly and it gets colder there so you'll see a variety of pieces for different temperatures. If you need to dress for subzero temperatures, I'm not your girl. If that ever happens here, I'm not leaving the house. 😉
But hopefully these ideas help if you're shopping for some warmer pieces!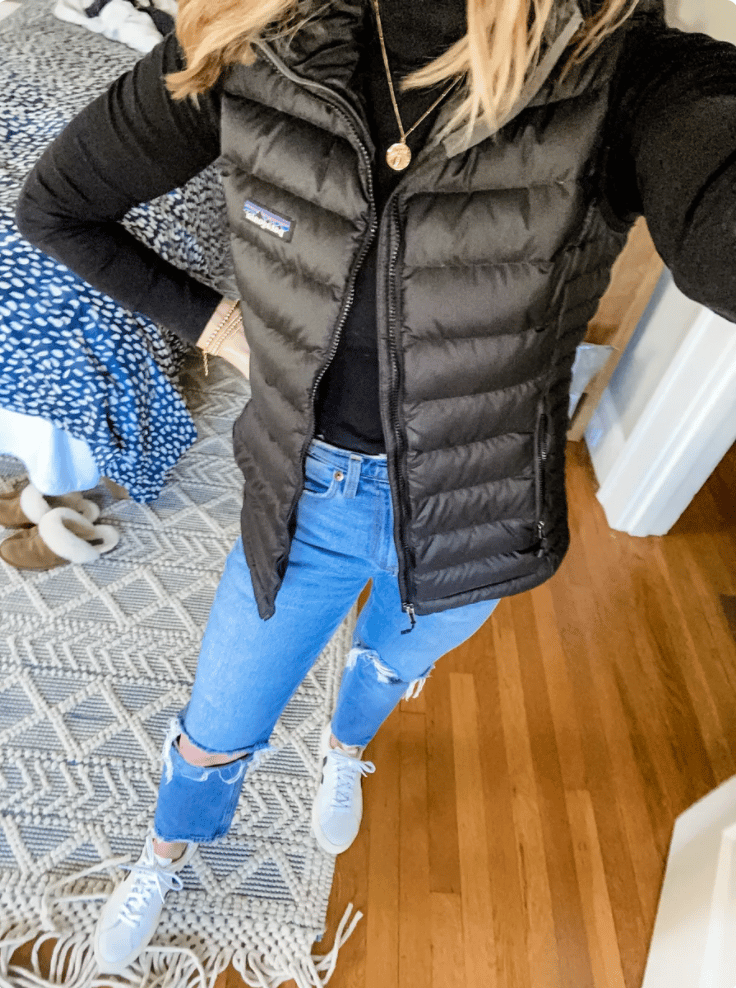 Winter Wardrobe Must-Haves: My Cold Weather Favorites
Boots for dressing up 
I got these this fall and I've LOVED them. Here's a more affordable pair that looks really similar. I love these with jeans in the winter!
Durable, warm boots
I wore these on our snow day last week and they're so comfy and warm! I like having a heavy duty option like this. See on me here! (Sadly my color is sold out but I love the other options too.)
Leather sneakers
If it's above 40 degrees, I wear leather sneakers. They're warm enough for our NC winters and cute with so many outfits. These don't come in half sizes so I go up to a 7 in them. See on me here!
Flattering coat
Every few years I get a new coat that I feel great in.  This one is similar to my current go-to and I love it. I also love this one!

Lounge sets
I'm totally obsessed with this set. I wear it for pajamas, but I also wear the top with "real" outfits. I'm not kidding, softest set I've ever put on in my life.
Warm base layer
I've worn this Lululemon base layer SO much recently. It's a great layering piece with jeans or for running! See on me here.
Classic jeans
Jeans are a winter staple for every closet but I have a major favorite pair. These high-waist straight leg jeans are legit. I finally reviewed them here! I love them so much I have 4 pairs. You can wear these with sneakers, boots, or heels all winter long. See on me here!
Other Winter must-haves
Humidifiers – I have one in our room and Thomas' room. We both get super dry skin when the heat is on in our house. I swear by these in the winter!

Barefoot Dreams Blanket – We LOVE this. I used to roll my eyes when people made claims about how soft these are but it's true. Unlike any blanket I've ever had.

Beautycounter Supreme Cream – The thickest, most hydrating night cream ever. My review here.
My Cold Weather Running Must-Haves
See ALL of my cold running must-haves here but I'm linking my top picks below.
Down For It All Vest – Probably my most worn piece of clothing lately. See on me here! I also have this vest.
Cross Chill Jacket – My favorite jacket for running when it's under 30 degrees. See it on me here.
Outfit linked here
Running Gloves – These are an absolute MUST have for running in the cold.

Running Mittens – Also a must-have for even COLDER days!

Earband – Also a must-have.

Winter favorites for Thomas
Baby Barn Clothes – I've been so impressed with everything I've gotten from here. We have a beanie and a sweater (both sold out now) but I LOVE this little sweat suit.
Baby Mittens – These a great little mittens from Gap.
Microfleece-Lined Corduroy Pants – These are super warm and adorable. They remind me of carhartt pants. See here!
Puffer Coat with Hood – We love this navy coat with the ears on the hood. You can't see the hood in the photo above, but it's the same one.
Robeez "Bean Boots" – These are the freakin' cutest. Thomas wore them in the snow and they were amazing. And now that he's walking, we'll need more shoes!
Winter favorites for Tommy
Bean Boots – Tommy loves these and has had the same pair for over 20 years! They're great for rain and snow.
Chukka Boots – They're practical for work or evenings out. I just took his in to get resoled – buy quality and they'll last for years with proper care.
Carhartt Jacket – Calling all Yellowstone fans. 😉 Tommy has a couple of rugged jackets from Carhartt — this and this — that are practical and look great. These are great for the elements and they're super durable.
Patagonia Vest – Tommy wears this non-stop. It's lightweight enough that you can layer another coat on top of it for extra warmth.
Cashmere 1/4 Zip Sweater – Also a staple for Tommy in the winter. Who doesn't love cashmere on sale?!
Do you have any favorite warm weather essentials I need to know about? Leave a note in the comments and share!
Stay warm out there!